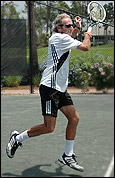 Jak Beardsworth


Clinic with Chris Evert,
Jimmy Connors Tennis Center
Sannibel, FL '86


Clinic host with Billie Jean King
ITA College Coaches Convention
Sanibel Harbor, FL '87


Clinic with Dr. Jim Loehr 1988,
Mental Toughness
Training Founder
Sanibel Harbor, FL '88


Jr. Clinic with Arthur Ashe
Miami, FL, '91


EDUCATION:  UMASS-Dartmouth; B.A. History, Minor Psychology
PROFESSIONAL AFFILIATIONS/AWARDS:  USPTA Elite Professional, UMASS-Dartmouth Hall of Fame, USPTA 40-Year Service Award
PLAYING EXPERIENCE:  Three-time New England Small College singles champion, 2014 USPTA #3 nationally in Senior Clay Court Singles

BEST EVENT PLAYED:  "Newport Grasscourt Invitational" (now ATP Hall of Fame Classic), a lead-up to U.S. Championships at Forest Hills.
COOLEST CLUBS DIRECTED:
Jimmy Connors Tennis Center, Sanibel Harbour, FL
Boca Grande Club, Boca Grande, FL
Sippican Tennis Club, Marion, MA
MOST INTERESTING CLINIC PRESENTED:  Nirvana Club, London, UK
COLLEGE COACHING:  UMASS-Dartmouth
JUNIORS/ADULTS COACHED that have had USTA SECTIONAL or NATIONAL RANKINGS:  100+
PLAYER DEVELOPMENT HIGHLIGHT:  Elite junior pilot program with Dr. Jim Loehr, "Mental Toughness Training" innovator
BEST TOUR PLAYER EXPERIENCE:  Former WTA #10, Austrian Barbara Paulus and Coach Peter Eipledauer – U.S. representative
EXHIBITIONS AND CLINICS WITH: 
Grand Slam champions: Arthur Ashe, Virginia Wade, Maria Bueno, Jimmy Connors
U.S.Davis Cup captains: Tom Gullikson and Tom Gorman;
Dr. Jim Loehr and other notables
SPEAKING ENGAGEMENTS:  USPTA divisions throughout the U.S. including most recently:
New England: Tennis Hall of Fame, Newport, RI
Northern California: Stanford Univ., Palo Alto, CA

-- and --

Austrian Coaches Convention – Innsbruck, Austria

Soccer Hall of Fame (Grandfather Fred Beardsworth member)
ITA (Intercollegiate Coaches Convention)
Writings Published:
BOOKS: 
'More Than Just the Strokes' (2005) – reached the Top 10 list on Amazon in tennis instruction
'Tennis Game Theory' (2016)
MAGAZINES:  HARBOR STYLE – a premier Southwest Florida publication
NEWSPAPER COLUMNS:  Lake Placid News, Lake Placid, NY, Standard-Times, New Bedford, MA
ANNUAL CHARITY TOURNAMENTS:  Harry Chapin Food Bank Classic / Shoes-For-Kids Shootout (events in Southwest Florida)
Today, Jak Beardsworth continues to make his signature expertise available to players at all levels of play year 'round in Punta Gorda, FL, at the Twin Isles Country Club.
Book signing at HEAD booth, 2005
Key Biscayne tour event.

2011 NE USPTA Convention Seminar
at the Tennis Hall of Fame
with former top tenner
Tim Mayotte, Paige Kane,
Sandy Goes

Clinic with Tom Gullikson,
Davis Cup Captain,
Olympic Team Coach
Punta Gorda, FL '07

Clinic with Maria Bueno,
Grand Slam Champion
Bonita Beach, FL '93

2009 NoCal USPTA Covention Seminar with legendary Stanford Coach Dick Gould

Former Lake Placid (NY) pro Siri Hauge training at the Mjondalen Tennisklubb, outside Oslo (2016)

Tennis Game Theory book launch at Twin Isles CC, Punta Gordawith Rick and Deb Highsmith (2016)

With favorite mixed partner Margit Bannon at 2016 Shoes For Kids benefit in Punta Gorda

2016 Shoes For Kids mixed opponent Kurt Mehl boning up pre-match. "Too late now Kurt."

Sweet Adeline at 2016 Shoes For Kids benefit in Punta Gorda

Jak's ball cap in a Kyoto, Japan bookstore -
global reach!