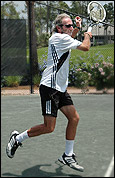 Jak Beardsworth


Tennis & Ski Center Team, No. Dartmouth, MA, 1978.



Clinic with Chris Evert,
Jimmy Connors Tennis Center
Sannibel, FL '86


Clinic host with Billie Jean King
ITA College Coaches Convention
Sanibel Harbor, FL '87


Clinic with Dr. Jim Loehr 1988,
Mental Toughness
Training Founder
Sanibel Harbor, FL '88


Jr. Clinic with Arthur Ashe
Miami, FL, '91

Clinic with Tom Gorman
Davis Cup Captain
Miami, FL '91

Clinic with Maria Bueno,
Grand Slam Champion
Bonita Beach, FL '93

Jak's Angels Pro Staff at Whiteface Club, Lake Placid, NYIn the 90s - L-R Siri Hauge, Jody Cogar, Jennifer Dupree


HEAD Advisory Staff: I am pleased to announce that, after an absence of a few years, I'm officially back with HEAD as an Advisory Staff member, working in conjunction with Wrigley's Tennis (Internet pricing and free stringing on new frames) in Punta Gorda, FL. [read more]
EDUCATION:  UMASS-Dartmouth; B.A. History, Minor Psychology
PROFESSIONAL AFFILIATIONS/AWARDS:  USPTA Elite Professional, UMASS-Dartmouth Hall of Fame, USPTA 25-Year Service Award, Charlie Scheu Kiwanis Shoes for Kids Award; HEAD Advisory Staff
PLAYING EXPERIENCE:  Three-time New England Small College singles champion, Top 5 USPTA – New England Grand Prix Circuit (NEPTA) Singles '78 & '79, 2014 USPTA #3 nationally in Senior Clay Court Singles, Tour Experience

BEST EVENT PLAYED:  "Newport Grasscourt Invitational" (now ATP Hall of Fame Classic), a lead-up to U.S. Championships at Forest Hills, now the US Open.
COOLEST CLUBS DIRECTED:
Jimmy Connors Tennis Center, Sanibel Harbour, FL
Boca Grande Club, Boca Grande, FL
Sippican Tennis Club, Marion, MA
MOST INTERESTING CLINIC PRESENTED:  Nirvana Club, London, UK
COLLEGE COACHING:  UMASS-Dartmouth
JUNIORS/ADULTS COACHED that have had USTA SECTIONAL or NATIONAL RANKINGS:  100+
PLAYER DEVELOPMENT HIGHLIGHT:  Elite junior pilot program with Dr. Jim Loehr, "Mental Toughness Training" innovator
BEST TOUR PLAYER EXPERIENCE:  Former WTA #10, Austrian Barbara Paulus and Coach Peter Eipledauer – U.S. representative
EXHIBITIONS AND CLINICS WITH: 
Grand Slam champions: Arthur Ashe, Virginia Wade, Maria Bueno, Jimmy Connors
U.S.Davis Cup captains: Tom Gullikson and Tom Gorman;
Dr. Jim Loehr and other notables
SPEAKING ENGAGEMENTS:  USPTA divisions throughout the U.S. including most recently:
New England: Tennis Hall of Fame, Newport, RI
Northern California: Stanford Univ., Palo Alto, CA

-- and --

Austrian Coaches Convention – Innsbruck, Austria

Soccer Hall of Fame (Grandfather Fred Beardsworth member)
ITA (Intercollegiate Coaches Convention)
TOUR EVENT ADMINISTRATION: 1985, 86 ATP Paine Webber Classic at Sanibel Harbour Resort – Management Team
Writings Published:
BOOKS: 
'More Than Just the Strokes' (2005) – reached the Top 10 list on Amazon in tennis instruction
'Tennis Game Theory' (2016)
'Next Level Tennis' (2023)
MAGAZINES:  HARBOR STYLE – a premier Southwest Florida publication
NEWSPAPER COLUMNS:  Lake Placid News, Lake Placid, NY, Standard-Times, New Bedford, MA
ANNUAL CHARITY TOURNAMENTS:  Harry Chapin Food Bank Classic / Shoes-For-Kids Shootout (events in Southwest Florida)
Today, Jak Beardsworth continues to make his signature expertise available to players at all levels of play year 'round in Punta Gorda, FL, at Emerald Point Tennis Club.
Tennis Books by Jak Beardsworth
Next Level Tennis:

Pathways (2023)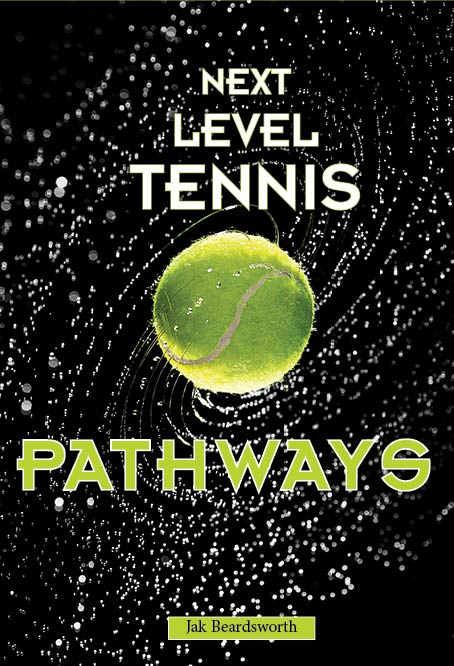 In a head-to-toe, whole body approach learn how to maximize your current game performance more consistently, for better match play results by both expertly managing those skills – quarterbacking if you will – and embracing, and improving, rock solid core fundamental ball striking itself as well.
Tennis Game Theory:

Dialing in Your A-Game Everyday (2016)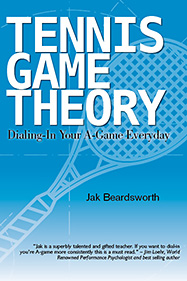 Tennis Game Theory, with praise from some of tennis' top authorities, is the culmination of Beardsworth's writings - magazine, newspaper, internet - over the past few years. The original 100 stand alone pieces have been adapted into a comprehensive work that's collectively aimed at providing motivated players with key core fundamentals to both maximize and improve upon one's on-court performance. Read More
More Than Just the Strokes:

Personal Best Tennis in Clubland and Beyond
(2005)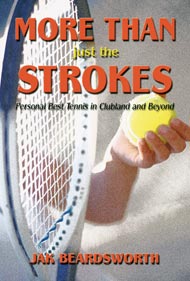 A comprehensive, common sense guidebook designed to assist the reader in reaching the apex of his or her tennis game. Based on over 50 years of playing and coaching experience, this book is not simply another "system." Read More

With former top tennis player
Bonnie Gadusek at
2019 Vivante Charity
Event Player's Party


Tennis Game Theory book signing at Isles Yacht Club, Punta Gorda, FL 2018


Working with promising junior JJ Lindau at Twin Isles CC 2018


In the Chair at Isles Yacht Club 2019 EXO with L-R Rainer Ruhland, Karen Miller, Jen Fiers, Luke Andreae


Tennis Game Theory spotted by Jane Kerstetter at Centro Tennis Club in Marradi, Italy In the Tuscany region 2018.


2011 NE USPTA Convention Seminar
at the Tennis Hall of Fame
with former top tenner
Tim Mayotte, Paige Kane,
Sandy Goes


Clinic with Tom Gullikson,
Davis Cup Captain,
Olympic Team Coach
Punta Gorda, FL '07


2009 NoCal USPTA Covention Seminar with legendary Stanford Coach Dick Gould


Former Lake Placid (NY) pro Siri Hauge training at the Mjondalen Tennisklubb, outside Oslo (2016)


Tennis Game Theory book launch at Twin Isles CC, Punta Gordawith Rick and Deb Highsmith (2016)


With favorite mixed partner Margit Bannon at 2016 Shoes For Kids benefit in Punta Gorda


2016 Shoes For Kids mixed opponent Kurt Mehl boning up pre-match. "Too late now Kurt."


Sweet Adeline at 2016 Shoes For Kids benefit in Punta Gorda


2004 Mixed Doubles EXO at Whiteface Club, Lake Placid, NY with L-R: John Rosenthal, Claire Doyle, Ora Smith


With former World #8 Bonnie Gadusek at "Mental Skills Clinic" at Twin isles CC, Punta Gorda, FL 2018


Serving in Isles Yacht Club, Punta Gorda, FL 2018 Team EXO Series


Post match beer celebration with doubles partner Brian Bannon.


Returning Serve in Naples Pro League 2005

2008 Lake Placid EXO
L-R: Kenny Andriano, Bob Delefause, Mike Bucar, Terry W. Watson

Annual Margo Roca Sister Slam Doubles 2017 Punta Gorda


With former Naples Pro of the Year, Denny Rager
At 2017 Shoes For Kids Benefit in Punta Gorda, FL


With Bonnie Gadusek and Rainer Ruhland at Isles Yacht Club 2017 Kick-off Clinic


Former New England junior practice partner Pete Sullivan sent this from the Greek island of Paros.


2019 Doubles Practice at Emerald Point TC in Punta Gorda, L-R Margo Roca, Mae Nelson, Jane Kerstetter, Barb Robinson


Former Associate Pro Siri Hauge at 2017 Norwegian Nationals


2020 Emerald Pointe staff in Punta Gorda having some fun.


Johnny Miekle at Emerald Pointe, Punta Gorda 2020 noting his ace placement on match paoint.



Lisa Lindau on break at Emerald Pointe 2020 training session.





Local standout player Mae Nelson bending in one of her superb jump spin serves.
Note the pronation.


Assisting Margit Bannon – PLAY TENNIS-PRACTICE YOGA – taping one of her popular 2020 YOU TUBE tennis yoga fusion offerings.


Doubles Challenge at Emerald Pointe, Punta Gorda 2020 L-R: Peter Johnson, Robert Driscoll Not Pictured: Chris Sears


Future Stars 2020 - L-R: Sophia Clancy, Kaelyn Carrico, Kendall



L-R: Nancy Hiatt, Jean Machus, Betsy Kippers, Peg Hau at Emerald Pointe, Punta Gorda Team Practice 2021.






2021 Isles Yacht Club, Punta Gorda. Leukemia Cup Challenge
L-R: with Host Pro Rainer Ruhland, Dagny Andreae, Luke Andreae, Laura Damm





Practice Session with Rick F.B. Hau at Emerald Pointe, PG 2021



Ann Pfister-Brown at final May 2021 practice session at Emerald Pointe, Ct.4, Punta Gorda



Martha's Vineyard & Scottsdale Pro's, Doug & Leslie I.G. Browne, at post-Davis Cup party, Sanibel Harbour Resort, FL, 1989



Coach/Player Reunion with former UMASS-Dartmouth star Brad Cheney at Emerald Pointe, Punta Gorda



Charlotte HS #1 Halayna Roberson at 2021 South Florida Univ. Tennis Camp





Sophia Bender celebrating winning 16's Consolation at Lake Padgett Jr. Classic July 2021



With Ann Pfister-Brown and Diane DeGuraian at Emerald Pointe Ct 4 practice 2022.



Year- end Emerald Pointe men's team tennis awards dinner 2022 season.



Battle of Sexes Interclub at Emerald Pointe 2023 / L-R: Eric Knapp, Ann Pfister-Brown, Diane Degurian, Rick Hau



Prepping for the 2023 SHOES for KIDS Charity event at Emerald Pointe



2023 Sponsor List Fence Banner for the 13th Shoes for Kids Benefit



With my new serve coach Tori Brown at Emerald Pointe Ct4 2022