Tennis is undoubtedly the greatest game on Earth.
Where else, but on a tennis court, can you connect so intimately with even a complete stranger? The continual juggling of one ball, it being smashed, caressed, and spun back and forth between two or four players on a court with dimensions proven timelessly perfect for the act. Muscles twitching, eyes keenly focued, heart pumping, fully engaged in its infinite currents.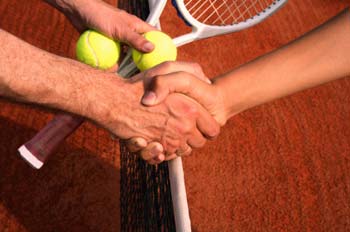 Then, anyone and everyone, fully trained or completely unschooled, nearly always experiences, at the very least, some inkling of the euphoria inherent in a perfectly struck shot - whether by design, good fortune, or blind luck - every single time out. This ethereal game of tennis can, in an instant, transcend everything and more whenever you let go and allow it to be.
Its innate malleability is such that there exists no "right" way to play. You are totally free to both invent and reinvent yourself daily, and put your own signature squarely on each and every round ball struck, at best in a perfect synergy of the physical, mental, emotional, and even spiritual uniqueness of your being.
Homer wrote in The Odyssey, "There is no greater glory for man in all his life than what he wins [gains] with his own feet and hands."
In sharing my lifelong passion for tennis in this, I hope that I have, in some small measure, fueled not only your enthusiasm for a never ending pursuit of the true player within, but, best of all, experiencing the pure joy of it all.
ADAPTED FROM AFTERWORD: MORE THAN JUST THE STROKES (2005)