AUGUST 2009
THE SPLIT STEP: Defending the Court, Rushing the Net, and More...
Movement and agility are at a premium in a run-and-gun, change of direction sport like tennis. Being both quick and fast are real assets in getting the ball right where you want it, and when you want it for optimal shot making.
But defending your side of the court well, or your section of it in doubles play, is essential if you're going to posses a solid defensive game as needed – always #1. Shrinking the court can also plant a thread-the-needle perception in opposing players, leading them to almost always committing more unforced errors than they ordinarily would make. Movement without the ball can win points too!
Speed, however, is not an end all solution. The best base stealers in baseball are not always the most fleet of foot. The fastest runners are not always the best receivers in football. Movement management is, more than anything, paramount to success in any ball-in-play sport.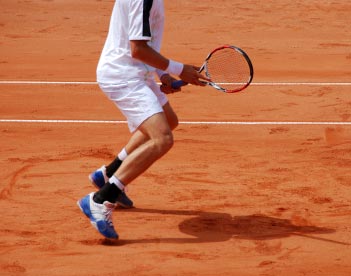 The split-step is the key component in maximizing one's existing movement skills in tennis, on offense or defense, whether you're fast, slow, or in between. It can be defined this way: a soft momentary landing on the balls of both feet, while squared off to the opponent, at the precise moment their shot is struck in order to then spring immediately right, left, forward, back, or on some diagonal variation without delay to the approaching ball. Players who stand poised but absolutely motionless are not only comparatively slow off the mark, but also put much greater stress on their joints from their "static" start.
There is no "right place" on the court to land your split step. It can rightly occur anywhere on the court, at anytime, whether moving laterally back into a defensive position in the back court, when moving towards the net in transition (see photo on right), when already positioned at the net in doubles, or when returning serve - even if you're not exactly positioned where you'd like to be at that moment.
Steffi Graff epitomized a very "high" version of it – pogo stick like quads - yet, nonetheless, landing at the perfect moment. Rafeal Nadal's is minimal, almost an imperceptible hop prior to touching the court, preferring to stay low. Yes, good news, there's lots of room to put your own athletic signature on yours.
If you're not sure at this juncture that you actually have a consistently occurring one of your own, then you don't, and that, even if you are relatively quick and fast, minimizes both your court coverage and your shot making, not to mention your ball watching!
Need a quick tutorial? Take a moment to observe tour players employing their own split steps on television – imagine that you're the player closest to you on the screen and practice it every time your "opponent" hits a shot - and/or go to the Links Page on this site where you'll find a number of excellent opportunities to do the same.
So get positively more physical. Move around the court with greater fluidity. Play better.
Questions and comments are welcome at anytime for all tips present and past via email.
This Tip of the Month is copyright© by Jak Beardsworth Tennis. All rights reserved. Copies may be made only with the permission of and by Jak Beardsworth. Contact him here.
Tips Archive