JULY 2009
THE THIRD GROUNDSTROKE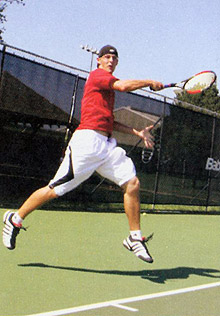 "Rotating his body in midair, a testament to that core strength, he smoked a pair of inside-out forehands for winners, swinging one way while his entire body drifted the other and somehow making it all look natural." Got it? Jon Wertheim's insightful description of Roger Federer – from his recent book about the 2008 Wimbledon Federer-Nadal classic final, Strokes of Genius – running around his backhand, well into the ad side of the court, to unleash those severely angled laser beams gets it just right. Done effectively opposing righties hate it since it stretches them out wide to their backhand. Only left-handers, with Nadal at the very top of a global list, are able to counter it effectively some of the time.
There was a time in tennis when running around your backhand was considered both a sign of weakness and bad form. Not so, thankfully, for sometime now, with the best players on the planet, who clearly do not have problematic backhands, utilizing the tactic at every possible opportunity. You should too, unless you're one of those rare individuals in clubland who are not more accomplished off the forehand wing and view the backhand as their strength. That stated, in those instances when you're jammed by a ball approaching your belt buckle, it is still athletically more natural to move away from it by playing a forehand versus a backhand, and yes, even including two-handers who, unlike one-handed players, also fully rotate in making their shot. Stay '09 Wimby current and, besides Roger, also think either Andy, Venus and Serena.
The first move, upon recognizing the opportunity, is pivoting by rotating one's hips and shoulders away from the approaching shot. Creating space by initially moving the hitting shoulder/hip back towards the back fence, back pedaling to get the ball where you want it, and finally launching an open stance forehand that drives off the hitting side leg - right leg for right-handers – elevating off the court, and then landing on the left leg while simultaneously moving away from the ball (see first sentence, first paragraph again regarding Federer and also check out the image to the right of a young player moving away from the middle of the court to get around his backhand).
Ideally, you're going to hit freely – accentuated racket head speed - up and over this ball generating very aggressive topspin for both safety in net clearance and some extra gas off the bounce as well. You'll also buy a bit of extra recovery time to cover any well struck designed down-the-line counter, or a lucky late stab that could catch you by surprise.
In doubles the run-around can be employed most liberally in the ad-court well into the alley – including "cheating" on initial position - and even beyond since any response up the now somewhat exposed middle, especially when paired with a stationary net player, can be run down easily back into the court with a very doable forehand. A lefty can achieve the same result playing in the deuce court.
So, in life please avoid giving anyone the runaround, that is unless of course you happen to be on a tennis court!
Questions and comments are welcome at anytime for all tips present and past via email.
This Tip of the Month is copyright© by Jak Beardsworth Tennis. All rights reserved. Copies may be made only with the permission of and by Jak Beardsworth. Contact him here.
Tips Archive