July-August 2010:
SUMMER SCHOOL COURTSIDE CRIB SHEET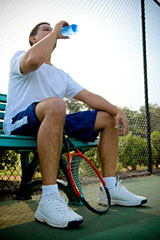 Trouble shooting your game in the heat of competition is not as easy as it sounds. The great Arthur Ashe, a Hall of Famer, was known to have kept notes in his racket bag which he would refer to on changeovers – not a bad idea for serious club players. No doubt it included key reminders regarding both what it took to play his own game well, and I suspect some thoughts on how to best deal with the opponent at hand.
In the spirit of David Letterman, here's a Top Ten Crib Sheet to get you through the long hot summer months when your game is not firing on all cylinders.
10) Did you arrive early enough to prepare both physically and mentally?
9) Are you pacing yourself between points or rushing around with your hair on fire?
8) Are you split stepping at every opponent's strike of the ball or standing lump like?
7) Is your racket loaded and prepared early enough or still in the holster?
6) Are you using loosening rituals on both serve and serve return or mimicking a robot?
5) Are you strangling your grip in fear or optimally relaxed?
4) Are you breathing at impact or holding your breath for dear life?
3) Are you visualizing your shots or just hoping for a good result?
2) Are you really watching the ball or only seeing it fleetingly through your periphery?
1) Did you remember to keep this list in your racket bag or did you leave it on the kitchen counter next to the grocery list
---
Questions and comments are welcome at anytime for all tips present and past via email.
This Tip of the Month is copyright© by Jak Beardsworth Tennis. All rights reserved. Copies may be made only with the permission of and by Jak Beardsworth. Contact him here.
Tips Archive