DECEMBER, 2011:
CUTTING OFF THE ANGLE…VERTICALLY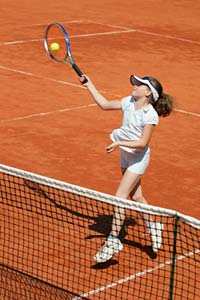 It's always gratifying when players are able to inform their pros that, yes, they are aware of "cutting off the angle" laterally on the diagonal – reducing the size of the passing lanes – when playing the net, especially in doubles with the alleys. Yet these same players are often not cognizant of utilizing the same positional tactic when at the net and defending against an opponent's obvious attempt of a defensive lob over them from a stretched low, short ball position in and around the service line or closer.
Instead, reading the shot, too many defensively retreat back towards their service line, taking pressure off the hitter, and allowing the lob to increasingly gain height and become fully airborne. This results in either becoming a difficult to play ball, or a completely unplayable one as it successfully sails over them as they back peddle - then requiring a last ditch partner rescue effort that typically has a bad ending. Just another reason why the lob is so effective in club doubles but seldom at the professional level.
In these instances of opponents attempting what should be deemed a poor shot selection, one that's allowed to become a viable one in the above noted scenario, closing aggressively forward, closing straight at the opponent in close proximity to the net, will also "cut off the angle."  But this time it's vertically, in effect shutting down the ascending lobbing lane early on and creating an easy volley at a defenseless opponent long before their lob "gets-up" and becomes too high to handle effectively, if at all.
This aggressive positional response represents a big step for club players to become a far more effective net player, much more than just being a good volleyer – not at all the same thing.
---
Questions and comments are welcome at anytime for all tips present and past via email.
This Tip of the Month is copyright© by Jak Beardsworth Tennis. All rights reserved. Copies may be made only with the permission of and by Jak Beardsworth. Contact him here.
Tips Archive