May-June 2010:
THE 2-HANDED JUMP BACKHAND: The Dumbest Shot in Tennis
To the best of my knowledge the first individual to ever utilize, perhaps invent(?), this shot was Marcelos Rios, the contentious Chilean who actually achieved the world #1 ranking for one week back in the 90's right after a straight set spanking of Andre Agassi in the finals of Key Biscayne. I didn't get it then, and I don't get it now, although a supremely talented athlete can give credibility to anything by overcoming any and all inherent inefficiencies, no matter how ridiculous.
Stylish? Oh yes, very. Biomechanically efficient, I don't think so. This ain't basketball, and Michael Jordan is not coming. Only Pete Sampras' showboating "slam-dunk" overhead, only in close proximity to the net with a sitter in his sights, made any sense in this, if you will, shot making genre.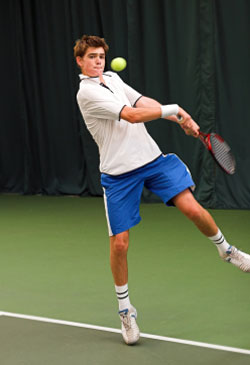 Today's jump backhand has many practitioners on tour, all with an apparent predisposition for flair - all style, no substance – and who mostly share a lack of success at the top of the game. It involves jumping up for a high bouncing ball in the backcourt and then suspending oneself in mid-air for the moment just prior to striking the ball.
This approach has merit for Lebron James needing to elevate as much as possible , prior to releasing his perimeter jump shot, with, let's say, Kobe Bryant in his face trying to impede its path to the basket. This makes no sense when one is safely 40' away from a 3' plus barrier on a tennis court with no one anywhere to be found trying to obstruct the shot's trajectory, not to mention the complete disruption of the kinetic chain – the sequenced use of the legs, hips, shoulders, arms, and wrists transmitted through the racket at impact – routinely utilized in every other ball striking situation.
You will not see Nadal, Soderling, Murray, Djokovic or the Williams', Stosur, Jancovic, Dementieva using "hang time" to elevate for a high backhand opportunity. If that's not enough, you will also not see anyone using this "jump technique" on serve, despite it being the tennis shot that most closely resembles the jump shot in basketball.
So keep it simple and efficient. Less can go wrong. But yes, go ahead and jump up into the desired moment of impact on the high bouncer – one delivered with topspin or even the "knuckleball" floater that can be prevalent in clubland – and go full-on athletic with the shot. After all, it's an athletic game, unlike for instance golf, involving running, jumping, and changing directions while in full flight.
But, just in case, how about forgetting any further misguided attempts to emulate the tour "stylists" by attempting to hit a shoulder high backhand with a completely disconnected power train while fleetingly floating in the air like some invisibly wired kung-fu movie fighter.
It's all flash and dash.
Questions and comments are welcome at anytime for all tips present and past via email.
This Tip of the Month is copyright© by Jak Beardsworth Tennis. All rights reserved. Copies may be made only with the permission of and by Jak Beardsworth. Contact him here.
Tips Archive