JUNE, 2012:
MAKING YOUR LESSONS STICK
There are a number of tired, old adages that are tossed around clubs everywhere. "You'll get worse after a lesson," is one that tennis pros shake their collective head at and is a bunch of nonsense as well. But it often becomes a reality due to the way in which players follow-up after their lessons, particularly if their bad habits were especially idiosyncratic and they had become somewhat adept at managing these inefficiencies. The best athletes are always the worst offenders, which makes perfect sense in that they are the best at managing inefficient play due to their exceptional natural ability.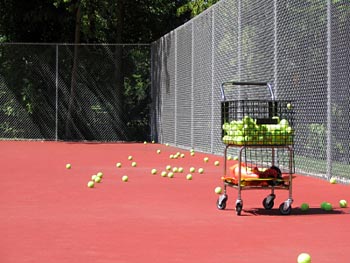 So, what is it that players do immediately after receiving coaching? They go right out and play, expecting an immediate wholesale change in their technique, instead of diligently practicing - on the ball machine, with a hitting partner, or even drop-hitting – what they've learned.
Naturally, they quickly, under the pressure of match play, revert back to their state of mediocrity, albeit secure – the reason for scheduling the lesson in the first place, which is where they will reside for the rest of their club "career" if they fail to change their ways.
It's very frustrating when one of these same individuals goes out of their way to inform their pro that their game "is now worse," despite the obvious success that they experienced – and happily recognized - with their new/altered techniques in the lesson.
I know I cringe in frustration when it happens to me, and it does, even though I know I clearly and quickly identified – after 50 years of teaching experience with thousands of players – the problem(s). This is my fault, since I neglected to make sure that they understood the need for practice first immediately after.
It's paramount for all coaches to finish every lesson with a fervent directive that they're going to need to practice hundreds of reps to erase the old muscle memory and establish the new on their, if you will, 'hard drive' before jumping back into the fray. You cannot think about mechanics. You have to just feel it. That takes practice, and lots of it if you're serious about becoming a better player. That's why you need the reps.
It's always interesting to note that tour players are totally dedicated to practicing constantly to both maintain their skills and to continue to improve. Yet, club players, who claim that they want to get better, treat practice like the mercurial ex-NBA super star Allen Iverson. He once said, in response to a question at a press conference after a loss on a day when he missed the pre-game shoot-around, "Practice? Practice?? You talking about practice???"
But let's face it, you're probably no Allen Iverson on a tennis court in terms of being gifted with world class athletic ability, so...
Commit to doing the right thing after your next lesson. You'll reap the rewards and really get your money's worth too.
Questions and comments are welcome at anytime for all tips present and past via email.
This Tip of the Month is copyright© by Jak Beardsworth Tennis. All rights reserved. Copies may be made only with the permission of and by Jak Beardsworth. Contact him here.
Tips Archive