AUGUST / SEPTEMBER, 2011:
NEVER TOO LATE FOR OLDER DOGS
I'm back on my soap box encouraging older players – and demonstrating to them on court every day - that, yes, older dogs can learn new tricks. This after overhearing a couple of closed minded naysayers proclaiming that you cannot, that you are resigned to a flawed game if you're of a certain age. Are these folks victims of their own lame acceptance of mediocrity, or just too lazy to really try?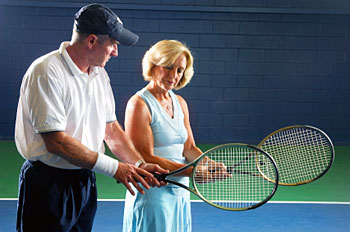 I thought I had put this misperception to bed a few years ago in my book, More Than Just The Strokes. Apparently these guys didn't read it, or have ever visited my website (free) -  dedicated to those who always aspire higher - to open their minds up to the possibilities.
Allow me to remind those in doubt that none other than former world #1s Jimmy Connors, Pete Sampras, and Andre Agassi disagree with such a negative stance. Connors said, while dominating the Seniors Tour a few years back, "I think I can strike the ball better now than I could 15 years ago. And I think I anticipate better than I did in the past." Agassi, according to his coach, Darren Cahill, was still more than holding his own at the end of his career because "he never trained [practiced] to maintain, he trained to improve." And Pistol Pete, not long after he retired, offered, "Honestly, I think the best tennis I played was when I was older. I was ten times the player as I got older than when I was really dominating." Okay? Got it? You can keep getting better despite the physical realities that come with chronological advancement.
Still not on board, and, as a result, warming-up for two minutes at most so that you "won't get too tired to play," or announcing, "let's not waste anymore time warming-up," and then proclaiming "f.b.i." to start the match? Okay, here's some more evidence.
I just got off the court today with an 80+ years young player who works out with me 1-2 times per week to stay sharp and to, yes, continue to improve, which she most definitely has! Ranked in her divisions top 10, she'll be representing the USA – invited by the USTA – at the 80 & over ITF world team championships in Turkey in October. And there's another 80+ player that I'll be working with tomorrow, a recreational player, who this summer developed, I kid-you-not, a one-handed topspin backhand that she said she wanted to learn after watching Roger Federer's. And then there's also a slightly older gentleman who has acquired, and relishes, an uncanny backhand overhead over the past couple of summers right in front of me.
In the news recently we learned that 61 year old marathon swimmer, Diana Nyad, failed in her attempt to swim from Cuba to Key West – that's if you can even refer to her effort as a failure. This was her second attempt, the first, 32 years ago when she was 29, also ended without fulfillment. After having to give it up after 29 hours in the water – still mentally strong but physically gassed - she addressed the press candidly: "I'm almost 62 years old. I'm standing here at the prime of life. Ithink this is the prime, when one reaches this age. You still have a body that's strong, but now you have a better mind." I had the pleasure of meeting her on an airplane back when she was doing television commentary for CBS at the US Open. Her effort and comments came as no surprise at all to me after that one conversation with her. She exuded always aspiring higher.
Yeah, sure you're slower, less flexible, less powerful, and somewhat vision impaired compared to your youth, or even 10 years ago. So what? Does that mean you have to resign your Self to standing pat with your game? I think not! You can still continue to improve your ball striking skills, anticipations skills, strategy and tactics, mental toughness, and more. So, c'mon, it's time to lose the tired "old dogs" cliché once and for all, get to work, and have even more fun meeting the challenge!
---
Questions and comments are welcome at anytime for all tips present and past via email.
This Tip of the Month is copyright© by Jak Beardsworth Tennis. All rights reserved. Copies may be made only with the permission of and by Jak Beardsworth. Contact him here.
Tips Archive