JULY, AUGUST, 2012:
TOP 10 STRESS REDUCERS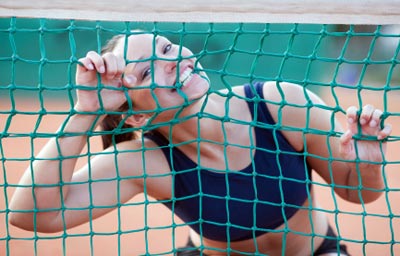 10. Practice the skills – new or improved – worked on in a lesson before your next match, including friendlies.
9. Practice, minimally, at least one time between every two matches, including friendlies.
8. Stay in the present – one ball, one point, one game, one set at a time. Don't fret over past mistakes or a daunting scoreline.
7. Take your time between points, particularly when misfiring and the tendency is to rush to begin the next point to right yourself. 
6. Do not stand still in between points. Keep pacing back and forth and then "energize-up" just prior to the start of the point whether receiving, serving, or positioned at the net in doubles.
5. Do not "get set" or "plant" when making your shots. Take the final foot-working step  - "setting up" - while in the act of hitting… same time frame. Step 'n strike.
4. Maintain a relatively low grip tension in the ready position and through shot impact. Do not strangle the racket.
3. Breathe – inhale just before you launch your racket into the ball, exhale through the point of impact and follow through with a relaxed jaw. Discover your own signature sound.
2. Watch the ball into your racket, then remain connected to it in its outgoing path with a still head – no bobble-heading or swivel-heading. Only the ball – not the opponent, not the court, both of which are viewed in your periphery only. You'll then perceive the action as taking place more slowly.
1. Visualize your shot intentions every single time – both directionally and marginally to the net. Picture its intended trajectory over the net. The power of visualization on a tennis court is immense. See success in your mind's eye.
Collectively, these 10 steps will be instrumental in reducing your consciousness during play. You may recall that at one time a common comment regarding individuals who were playing at level well beyond their norm: "He's unconscious." Exactly. 
Questions and comments are welcome at anytime for all tips present and past via email.
This Tip of the Month is copyright© by Jak Beardsworth Tennis. All rights reserved. Copies may be made only with the permission of and by Jak Beardsworth. Contact him here.
Tips Archive