September 2010:
TAKE YOUR EYE OFF THE BALL
I know what you're thinking. You cannot be serious! Take your eye off the ball? I'm talking about learning more about how to play the game by regularly observing how the sport's best players do it, and not the point. Unless you're a very accomplished and experienced player, you learn very little by watching tour level singles points unfold – you might not yet have the ball striking and movement skills to tap into that level of strategy and tactics - amounting to concentrating mostly on nothing more than the ball going back and forth. Nothing gained in terms of your own on-court performance, although just casually enjoying a well played tennis match is cool too.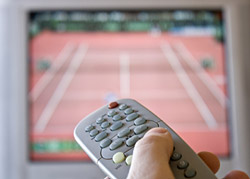 But, when taking in big time tennis, whether it's live - if you're fortunate enough to be attending an ATP/WTA event in your area - or simply on the tube, try taking the time and making an effort to isolate one player and singularly observe their technique, both above and below the waist. From that you can really improve your own game, even in the comfort of your living room. Can't beat that.
Professional players certainly do put their own signature on their style of play, and good coaching encourages them to do that since tennis is most definitely not a cookie cutter game and has lots of room for athletic interpretation. Yet, you cannot miss the striking similarities from player to player, men or women: the relationship of the take back with the approaching ball, the perfectly timed split stepping, the open and closed hitting positions, the serve and return rituals, the service toss, how they run balls down and then recover effortlessly and right on time, the head-still ball tracking, the "one club only" grip changing, and the breathing (no please, not the screaming) to name a few of the essential core components of the game.
These, and others, are the difference makers between the good you and the bad you – let's not even get into the ugly. There's no getting around them if you want to play your best and keep improving, even if you've witnessed first hand the move from white balls to yellow ones. Just take a look at world class player Marion Bartoli if you need convincing – the poster child of idiosyncratic style if there ever was one. Yet, these interpretive basics are the really important stuff, versus, for example, concentrating on by-product issues like"where's the 'right' place for my forehand follow through to end up?," the nonsensical, one dimensional kind of crap espoused by some club pro talking heads with cookie cutters in hand.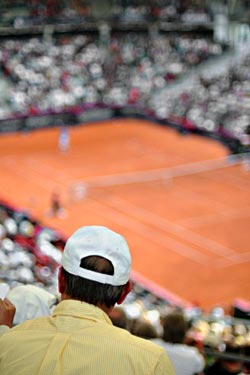 And, at the same time it's too bad more tour doubles isn't aired, beyond the occasional Davis Cup and Fed Cup ties, since doubles is the most popular game worldwide. It would be all good for all if we could see more and more top flight doubles, and hopefully be a stealthy antidote to seeing four players on the court in the anti-model singles mode seen far too often.
Sure, it can prove to be a very fast game to follow, especially the men - think Bryan brothers, but it's still four players interacting in a space only 25% larger than the one for singles - just like you – so there's a lot going on. Positioning as a team always in motion is everything, which, last I time I looked, was still a bit sketchy in the club scene.
Observing how it's done best, when possible – the way a team works seamlessly together in both defending the court and moving forward together on offense whenever the opportunity presents - will pay doubles dividends in your league too. Just make sure that your regular partner is sitting next to you when you watch and learn, or they'll be on your no-call list in no time flat.
Actively modeling your game after a particular tour player's game, or a particular doubles team, one that strikes a chord for how you'd love to be able to play, and always aspire to play, will bleed into your motor subconscious with empowering results. How's that for an opportunity?
Learning for nothing, lessons for free!

---
Questions and comments are welcome at anytime for all tips present and past via email.
This Tip of the Month is copyright© by Jak Beardsworth Tennis. All rights reserved. Copies may be made only with the permission of and by Jak Beardsworth. Contact him here.
Tips Archive