NOVEMBER, 2011:
WHY COACHING?
Because athletes – amateur and professional alike – in all sports, particularly the individual ones, often misperceive their performance, both the failures and the successes. Nothing new there. Worse yet, they can be in denial and, amazingly, simultaneously without viable solutions.
In his recent book, Perplexities of Consciousness, Eric Schwitzgebal contends that our powers of introspection are not always an accurate recounting of events, and that in reality our conscious experience of being on the inside is often confused and contradictory. Just ask both doubles teams to reconstruct the points regarding the correct game score – 40-30 or 30-40 for example. And that's just regarding the score line, never mind the mechanical nuances, or lack thereof, of that inside-out forehand you have trouble with.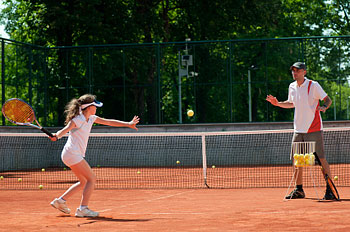 But in club tennis, where everyone prefers the winning experience to the losing one, most go it alone without even periodic coaching or tune-ups. The resulting underachievement of their potential for better performances – the ability to more consistently make one's existing good shots and reduce the occurrences of one's bad shots - along with the burden of not really understanding the reasons for an off-day, or a prolonged slump where they're "plateauing," is extremely limiting.
Running Coach Terence Mahon believes that the biggest challenge of self-coaching is honestly evaluating how you're really doing. He said, "Athletes are used to looking at one day. But if you look at one day of training [playing], you are not seeing the whole map. Coaches are working off of the experience not only of that athlete but of many before them." And over many years.
It's a rarity on the professional tennis tour when an accomplished player is without a coach. But Jo-Wilfried Tsonga is doing just that lately. He parted ways with his coach in the middle of the 2011 campaign, and has enjoyed a resurgence in the season's second half which has afforded him an excellent chance to qualify for the final 8 showdown in London later this month. An acrobatic, athletic player, it's believed that he made the change because he felt too reigned-in and "cookie-cuttered." That can happen in clubland as well, facilitated by well intentioned but one-way-is-the-only-way coaches.
In the end it's paramount that club pros challenge – if retained - player's erroneous self-evaluations on why they are struggling, for example, with their high backhand mechanics or second serve mind set. Simultaneously, players with eons less experience and game knowledge must be open minded, avoid defensiveness and being argumentative, and realize that the coach is with them, not against them. If it's not a good player-coach fit, then either party should take initiative and suggest a new direction with no hard feelings.
By the way, if the pro-coach is inept at proficiently demonstrating any aspect of ball striking mechanics, or unable to impart the mental-emotional nuances of the game, that's another red flag indicating it's time to move on.
But the coach also has a huge responsibility to not cross the line: interfere with a player's natural, inner athletic approach to the game, their brain hard wiring, and the percentage breakdown of how they best receive instruction – visually (seeing it), auditorily (hearing it), kinesthetically (feeling it).
At the end of the day it still takes two to tango.     
---
Questions and comments are welcome at anytime for all tips present and past via email.
This Tip of the Month is copyright© by Jak Beardsworth Tennis. All rights reserved. Copies may be made only with the permission of and by Jak Beardsworth. Contact him here.
Tips Archive