SEPTEMBER 2009
SERVING SUCCESS: Warming-Up vs Match Play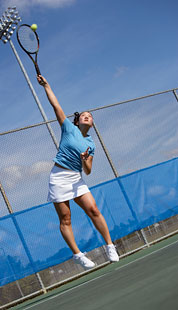 Have you ever noticed that it is not so unusual to warm-up your serve solidly prior to the start of a match and then proceed to begin the match serving badly? If you've never experienced that, then stop right here and begin making your travel plans to the Australian Open 'qualies.' If it does strike a chord, please continue.
When warming-up, there is of course zero-expectations of a return, resulting in far better ball watching – focusing on striking the ball at what you perceive to be the optimal moment for your tossing style. Yet, once it's showtime and the match begins, there is a tendency to pull your head down prematurely prior to making contact, to ready yourself for the now-expected return. There goes your first serve percentage right in the dumpster, and maybe confidence problems with your second serve as well.
One-time world #1, Kim Clijsters, recipient of a wild card at this year's U.S. Open and in the midst of a very on-track comeback after a two year "retirement," clearly understands this dilemma when she said on the event's opening day, "My mistake is that I don't always finish off my movement the way I should. I'm kind of already preparing myself for the next shot, while I didn't even finish my serve yet."
According to renowned teacher, psychologist, and jokester, Vic Braden, 'there's only one ball, you've got it, what's the hurry?' Well said, not to mention that club players, whose serves seldom approach even 90 mph, comparatively have oodles of extra time to prepare for the return.
Now factor in that every single time in your life, from childhood, that you threw any object – balls, snowballs, rocks, spitballs – you looked where you were throwing. Since serving is a throwing motion, there exists (depending upon your previous life/sports experience) a great deal of undermining conditioning to overcome.
So, when taking your first few practice serves, absolutely make sure, first and foremost, every time out, that you're keeping your head up and not carelessly pulling your head down too early. And, because you're hopefully always trying to place your delivery into a specific service box quadrant with appropriate margin to the net – even with your practice serves(!), keep in mind the advice I kiddingly offer to those a bit complacent about this all-important moment, "If the court moves during your toss, I'll let you know."
Enjoy your new, upgraded serving percentage.

Questions and comments are welcome at anytime for all tips present and past via email.
This Tip of the Month is copyright© by Jak Beardsworth Tennis. All rights reserved. Copies may be made only with the permission of and by Jak Beardsworth. Contact him here.
Tips Archive