December 2010:
JOHN ISNER'S "GOOD MISS"
As the 2010 pro tour campaign ends, it's easy to regard American John Isner as one of the tour's newest, best, brightest, and insightful stars...
Not because of his Wimbledon marathon victory.
Not because he chose to grow up in a normal, hometown setting under the tutelage of his local club pro/coach instead of attending a live-in tennis academy/factory.
Not because he actually attended and graduated from college.
Not because he has steadily risen in the rankings into the world's top 20.
Not because he gave world #3 Novak Djokovic all he could handle in the USA vs Serbia (eventual champion) Davis Cup tie earlier in the year, losing in 5 close sets on slow red clay in Belgrade in front of a hostile crowd after fending off a number of match points in the 5th set.
And not even because he remains both exceedingly likeable and humble, unlike certain other American notables who've worn out their welcome among so many fans with repeated boorish and unsportsmanlike behavior.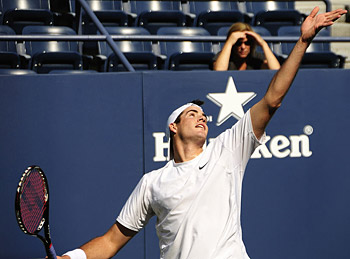 As a teacher/coach I especially like him because of his core philosophy of how to play the game, which makes him a consistent "gamer" – he never goes away - and is an integral part of his success: "If you miss, make sure it's a good miss." In club doubles, the most popular form of tennis worldwide, this is best exemplified by missing the meat and potatoes cross court return from the backcourt, with either your (right hander) forehand from the deuce court or the backhand in the ad court, just wide. Striking the ball just a bit too early will land the ball just out – an Isner "good miss!"
But, if too often you've allowed yourself to be late in making the cross court return, then the ball-is-playing-you and you're playing passively, reactive tennis. This, in the John Isner lexicon, represents a bad miss. If not corrected immediately, i.e. early on in the match, by "chancing" a good miss – even if the point is lost - it can often initiate the beginnings of a loss in confidence, tentativeness, and an unrecoverable downward spiral.
However, conversely, if you do inadvertently strike the ball a bit too early, resulting in that miss just outside of the doubles line, you are very much proactive by playing-the-ball instead of the other way around. This slight timing error will, in short order, fix itself without any accumulation of  damaging negative thoughts – particularly the fear of being poached, plus you've sent a strong message to your opponents that you will not retreat into a reactive, self-doubting shell.
Some other ways to perceive forms of embracing "good misses":
use overcompensation when struggling to find the right timing, i.e. strike the ball seemingly too early, or too far in front, and take the chance that it might be out in order to find the optimal moment of contact in relation to your body position – the result is, surprisingly, more often than not a successful shot, and a recalibration is quickly achieved
always remain aggressive – but not overzealous - in terms of shot pace, albeit with bigger margins to the lines for safety as necessary until you're able to dial-in  penetrating placements closer to the lines
never try harder when struggling, try softer, more relaxed, smoother… stay with it instead of tensing up, fighting it, and becoming against it
keep going for your shots versus becoming tentative and timid because you know that you will find it since you know it's there, but just taking a little longer than your norm to realize – it happens.
Remember, if you're playing league tennis the opponents are in your class. They are not significantly better players than you so don't perceive them in that way! If they were significantly better they would be rated at a much higher level and not playing in your division.
Since it is a relatively even playing field tilt it in your favor by never, ever allowing the ball to dictate to you. Play through any tentativeness and any timidity that's experienced. Keep it simple and solid. Be real of course by playing within yourself, but never lose this "contest" with your Self! It's often the most important one.
Isner's American female contemporary, Melanie Oudin, a recent standout in the Fed Cup final versus Italy in San Diego in November with a stunning and dominating upset over world #7 and Italian Open winner Francesca Schiavone, and also, interestingly, another homegrown player, has had a similar mind set embossed right on her adidas shoes:
"Believe"  
Questions and comments are welcome at anytime for all tips present and past via email.
This Tip of the Month is copyright© by Jak Beardsworth Tennis. All rights reserved. Copies may be made only with the permission of and by Jak Beardsworth. Contact him here.
Tips Archive