JUNE/JULY 2011:
HARD COURTS, SOFT COURTS, and YOUR BODY'S ADAPTATION
Too often to not notice, I repeatedly experience a very curious impression that my top of the line footwear creates an even softer, more cushioned ride when playing on hard courts – which I rarely do - compared to when I'm playing on clay. What? Yet, I get the exact same sense when just walking from the parking lot to the clubhouse on the cement sidewalk. Subscribing to the conventional wisdom, how can that possibly be? Somehow I have to be misperceiving this.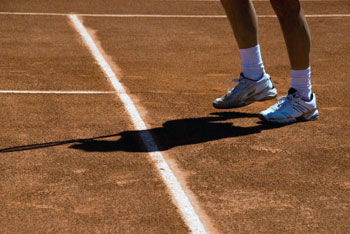 Perhaps not. Recent running studies, some products of small control groups, others based on biomechanical modeling, indicate that the human body, the most amazing self-righting machine, automatically adjusts to different surface hardness in order to keep the forces on the feet, ankles, knees, and hips as minimal as possible.
According to Dr. Stuart Warden, director of Translational Musculoskeletal Research at Indiana University, "If you run on a hard surface, your body decreases its stiffness. Your knees and hips flex more. On a soft surface, your legs stiffen."
An example used by Warden compares the body's auto-response when jumping off a table on to the floor, to landing on a trampoline. With the former you'd soften your knees at touchdown to better absorb the shock, which wouldn't be necessary at all and, interestingly, not auto-employed in the latter dynamic with its practically cancelled out landing impact.
Playing well on clay, the "soft" surface, does require considerably more footwork. This takes form in stutter steps which become, even on a well groomed surface like the ones at the French Open, very necessary since an absolutely true bounce becomes the anomaly and not the norm that it always is on a hard court. The sheer number of foot plants is far greater – especially in close quarter doubles where more adjustment steps are needed in comparison to on-the-run singles – than on true bounce hard surfaces. .
In my last two on court seminar presentations to fellow professionals – one at the Stanford University indoor hard court facility, the other on the Tennis Hall of Fame's indoor hard courts – I warmed-up for about :10 minutes as the attendees started arriving. To my amazement, in both instances, I dialed-in my groundies in no time at all – with an acute awareness of less physical stress than on the clay that I spend twelve months a year on – and found myself moving and striking balls with, for me, exceptional rhythm and relative ease.
Perhaps this repeating perception of mine is indeed a product of my body, smartly, softening-up its g-force foot strikes as needed. Conversely, is it possible that when I'm on soft surfaces – where the conventional wisdom does tell us, has always told us, that this is a more forgiving playing surface on the joints – my body becomes innately less attentive to absorbing foot strike shock?
Still, one might raise the question of braking from shot-to-shot, and its joint bearing consequences from surface to surface. Stopping on clay is far more forgiving in that you literally cannot stop on a dime, which you will absolutely be capable of on hard surfaces – unless you're one of the modern day specimens who can actually slide on hard courts (are they using shoes with a different rubber compound?). The "dirt" will afford you a bit of slide-room, or more, depending on your foot speed to the ball and the condition of the court. Then again, timely movement into and out of the shot making moment can cancel-out the potential costs of "dime-stopping" on the hard stuff.
Ever notice, on congested roadways with numerous traffic lights, how some drivers race to the next red light only to jam on the brakes when they get there, while others accelerate and decelerate smoothly and efficiently, just as all good hard surface tennis movers do.
And consider how you instinctively utilized very light foot plants whenever you found yourself crossing the sun baked, red hot pavement adjacent to those childhood beaches and lakefronts barefoot . Speaking of barefoot, I would be remiss not to acknowledge the new running barefoot movement, and also the accompanying running minimalist footwear now being marketed that goes with it, ignited mostly by Christopher McDougall's best selling book, Born To Run, about the Mexican  outback Indian's phenomenal endurance, injury free running deep in the totally isolated Copper Canyon outback completely without modern day "motion control" footwear.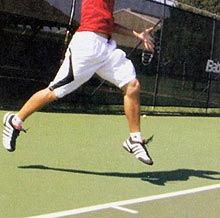 In any event, when you do find yourself on hard court surfaces, be conscious of maximizing your body's apparent innate ability to cushion your ride. And, when on clay, avoid carelessly clunking around because you're conditioned to thinking that you're on a "soft" court and wearing $120 shoes and your bullet proof.
Finally, since I am on clay almost all the time, the outsoles of those expensive shoes take forever to wear out. The insoles, however, are a completely different matter. They wear out and lose their cushioning relatively quickly – about 40 hours for me. Yet, for the average player, it happens so incrementally it can sneak up on you, that is until you start hurting and you wonder why since your shoes are "only 3 months old."
Currently, adidas provides the very best, well cushioned, longest lasting insoles in their tennis line, which are interchangeable among all brands. I typically wait for online sales of second tier models at Tennis Warehouse, and acquire a few pairs at a time just for the insoles, which I then rotate daily (currently 6 pr) in my K-Swiss Big Shots. When they are not in use they are placed in the sunlight to aerate them, and dry them out in high humidity environments, which helps refresh the all-important "inner" cushioning.
Improving your skill to move lightly and quickly on top of the court will contribute to  achieving more viable hitting positions -  on any surface – resulting in you not only performing at your very best but also contribute markedly to injury prevention and fatigue reduction.
---
Questions and comments are welcome at anytime for all tips present and past via email.
This Tip of the Month is copyright© by Jak Beardsworth Tennis. All rights reserved. Copies may be made only with the permission of and by Jak Beardsworth. Contact him here.
Tips Archive