SEPTEMBER / OCTOBER, 2012:
SMART SHOTS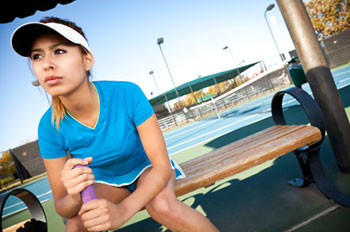 An often occurring talking point with both lesson clients and club members is my racket(s). They are clearly very old, their beat-up appearance featuring badly scuffed bumpers along with chipped and fading paint a dead giveaway. Instead of explaining why I choose to wield an antiquated ten plus year old Head Intelligence series model with its "intellifiber" technology - despite receiving the latest new advancements once per year at no charge - I simply point out the small, now barely legible marketing slogan at the top of the frame: "smarter racquet ~ better game."
A laugh is always shared without any further explanation. Truth be told, it's the closest feel to the wood sticks that I grew up with and honed my game on. Always the coach, it then becomes a perfect segue for me to happily offer some unsolicited advice that's core to just about every club player's game, advice that's coupled with why these old rackets appear to still work pretty well: play aggressively but patiently, play with controllable pace, play with safe margins to the lines and the net, impart optimal spin, i.e. smart shots.
Yes, low risk tennis reaps the greatest dividends – not trying harder, trying better. When necessary, remind yourself on changeovers to stick to your game plan if you're getting too amped up, and going too big with small, high risk margins leading to far too many giveaway, unforced errors…a trap easily fallen into. At a seminar I once presented – translated from English! - on teaching mental toughness skills at an Austrian Coaches Conference in Innsbruck, I recall the immediate pen-to-paper reaction I observed among the 100 professionals courtside upon declaring right out of the gate that I believed visualization was the #1 inner toughness component, the one that ignites and enables all else, especially the core advice mentioned earlier.
I'm still drinking that Kool-Aid® years later and encourage all my students to embrace it, stick with it, and trust it. No if and buts about it. And what's the worst possible resulting scenario? You'll absolutely play better.
In a variation on the Head iS2 aforementioned slogan, how about this instead: "smarter player ~ better game."
Consider one of the Merriam-Webster dictionary's definitions of smart: "containing a microprocessor for limited computing capability." Exactly. We're talking about playing tennis, not sending a probe to Mars – it truly is not rocket science.
First, processing the situation presented by the incoming shot - recognition, then visualizing the correct response - shot selection: r + v = ss. It doesn't take an inordinate amount of personal computing power to accomplish that simple task. Think cave man and commit to doing it.
In contrast there are far too many who, particularly when under pressure, strike balls with no more than a hope and a prayer that their shot will be successful. Hoping they don't screw up! Really? That's not your inner microprocessor malfunctioning, that's your microprocessor not functioning at all.
Avoid at all costs: Ready, fire, aim.
Get smart. Stay smart. Play better, a lot better.
Questions and comments are welcome at anytime for all tips present and past via email.
This Tip of the Month is copyright© by Jak Beardsworth Tennis. All rights reserved. Copies may be made only with the permission of and by Jak Beardsworth. Contact him here.
Tips Archive