MARCH 2009
Insights to Mastering your Game, from Jak
Letting them Play for Peak Performance
in Clubland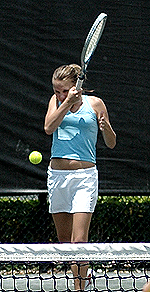 Have you ever noticed that even after you have warmed-up like a champ, making very few errors along with a high percentage of serves in, you can then proceed to play a match riddled with unforced errors from start to finish? If that's a "yes" read on.
In a good warm-up you expect the ball to come back over the net, and you're happy when it happens. That's your mind set. After all, you're trying to hit as many practice shots as possible in the allotted time to hopefully dial in your true game.
Yet, all too often, players unconsciously change that mind set once the match begins. They stop playing with the individual across the net, and begin playing against them. Why? Because they now become outcome driven instead of performance driven.
Begin to recognize that the essential difference between warming-up and match play is that now you're keeping score. So what, it's a game. The elevated pressure you feel, particularly at the beginning of a match but at pivotal times in the match as well, is a product of the "with vs against" transformation. The square pegs you're now producing no longer fit into the round holes you successfully dialed in during the warm-up, and you're in for an exercise in frustration.
My personal mind set is this: a) I expect the ball to come back, b) I don't even mind! And that goes for doubles as well as singles. The minute I become delusional in my expectations – meaning setting unrealistic shot making goals and/or deserting the present for the future or the past – I become an error machine. After all, this is the game I have arrived with, so I'm going to be true to it. Of course I'm going to play within my capabilities regarding pace of shot and margin to both the net and the lines in order to play consistently. And sure, I'll strike every ball as cleanly as possible – as if it's the last one I will ever have the opportunity of hitting. I will not try to make winners! I will remain relentless in making appropriate placements instead, defend the court ferociously, and let the chips ultimately fall where they may.
You must be willing to engage the opposition if you're going to have a fighting chance of prevailing in the end. They will make numerous gifts to you with their own unforced errors if you give them half a chance, especially in clubland! All you have to do is turn on the Tennis Channel and observe Player A "trading" with Player B in a long neutral exchange until one player begins to gain an advantage, and then typically works that advantage, without rushing, to a favorable conclusion. And these are the best tennis players on the planet!
So, at the end of the day, if you're secure enough to let them play, and go with the natural on-court flow, then you will have a great opportunity to play your best and that's what you should be asking of your Self.
Questions and comments are welcome at anytime for all tips present and past via email.
This Tip of the Month is copyright© by Jak Beardsworth Tennis. All rights reserved. Copies may be made only with the permission of and by Jak Beardsworth. Contact him here.
Tips Archive