October 2010:
BALL BOUNCING and the SERVE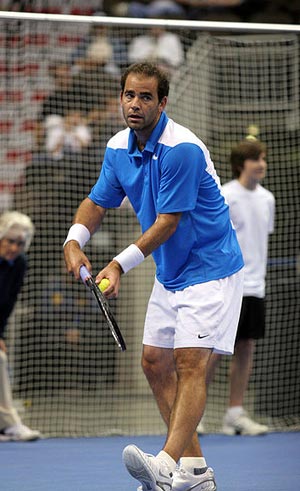 Still lethal after all these years.Just about everyone does it, from tour level on down to club and park mortals, but c'mon, how many bounces of the ball does it take to ready oneself prior to serving?
The great Pete Sampras was one bounce and slam, bam, thank you ma'am. The annoying antithesis to the games greatest server of all-time, is unquestionably Novak Djokovic. Although he's thankfully abbreviated this part of his ritual somewhat in the past year – mostly because his peers we're fed up with it, not to mention how tedious it was to the game's money managers – it was not unusual at all for the Serbian to bounce the ball well into the teens before every first serve. That would be analogous to a baseball batter insisting on as many practice swings prior to the pitcher releasing the ball. Or, a basketball free throw shooter doing the same prior to letting the shot the go. Ridiculous.
Jimmy Connors, towards the end of his career and especially during his last hurrah at the '91 US Open, would go to the bounce, bounce, bounce routine now and then, although not because he needed that much time to get focused, but because the then 39 year old needed an extra blow versus the 20 something young bucks he was still taking down. Okay.
Another legend, Boris Becker, would cradle-dribble the ball with his racket repeatedly while approaching the line to serve – as many pros do today – but once there he would  start his distinct ritual sans any tossing arm ball bouncing at all.
Back to the question, of course there's no right or wrong here, but, on average, how many bounces should it take to achieve pre-serve relaxation along with serve selection and its accompanying visualization before launching? That's entirely up to you(!), but don't treat it haphazardly. Rituals are extremely important on serve, and return of serve for that matter as well.
Be earnest in developing a sense of timing, pacing, and preparation that's feels right for you, whether it's no bounces, a couple, or a few. And be consistent – although it's not unusual for even the very best to vary their bounce count from 1st to 2nd serve (Djokovic typically halves the number on his 2nd serve) - particularly when you're struggling. Rushing, or abbreviating your normal ritual, will never solve any serving problems. But, conversely, becoming overly deliberate can lead to over consciousness – never a good thing either.
Find your deal.

---
Questions and comments are welcome at anytime for all tips present and past via email.
This Tip of the Month is copyright© by Jak Beardsworth Tennis. All rights reserved. Copies may be made only with the permission of and by Jak Beardsworth. Contact him here.
Tips Archive