JAK'S MONTHLY ESSAY SERIES: Achieving Your Personal Best
I Knew Jimy Van Alen:

A Historical Look Back

The beautiful game we all admire and love was first tinkered with, or "streamlined," by one Jimy Van Alen (1902-1991) way back when in the last century, the distant 1960's to be more specific, in Newport, R.I.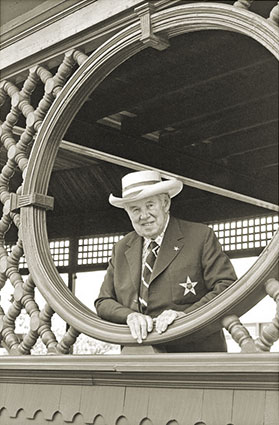 I should know. I was there, and knew Mr. Van Alen. I would never, for a second, ever think of addressing him in any other way but "Mister". He had that unmistakable gravitas, not to mention that he was also one of tennis' hierarchy, albeit an eccentric but an ahead-of-his-time innovative one that ruffled more than a few feathers. His daring, revolutionary VASSS (Van Alen Streamlined Scoring System) scoring was the precursor to today's ubiquitous tie-breakers, ever present and debuting at the 1970 U.S. Open with the ground breaking "9-point" sudden death TB at 4-4.
In 1964, as a promising 17 year old, I was invited – more apropos today as receiving a wild card - by Van Alen himself to play in the Newport Invitational Grasscourts at the storied Newport Casino, an annual tour lead-up to the then "U.S. Nationals" held later at Forest Hills. Today those very same grounds are home to the International Tennis Hall of Fame (founded by Van Alen), and site of the annual ATP Hall of Fame Championships, the last remaining grass court tournament in the U.S. The new "U.S. Open" vs the old "Nationals" designation began in 1968 when the then meager prize money was made public, and finally distributed over the table instead of under it, marking the final demise of the long standing, antiquated shamateurism system.
Tennis was at long last truly "open."
Earlier in '64, at the Dartmouth Indoor Tennis Club in No. Dartmouth, MA - one of the very first open-to-the-public indoor facilities in the country - I played-in with the visiting Van Alen, his lieutenant the dapper Henry Heffernan, and a top 25 nationally ranked American player at the time, Herb Fitzgibbons, the Princeton #1, if memory serves.
Somehow, as a capable but underachieving, poorly mentored junior, I managed to impress, or, as was commonly said back in the day upon one having a great performance, I played out of my mind. Back then a little athleticism, quickness off the mark, keen vision and foot speed, especially to the net – it was serve and volley and chip and charge in those days with wood rackets and slow balls – went a long way in the game at that time. I held my own with Fitzgibbons, who was probably a bit rusty and off form – remember, not many indoor courts in the 60's, even at Princeton – plus, I knew every nook and cranny of that indoor court.
I was in, although short lived.
I got a lesson in the first round, opening day, from world #12 Ron Holmberg, 31-12, 31-10. No, that's not a typo. The ever-experimenting Van Alen adapted a table tennis scoring twist to that year's tournament. In another time at the Casino, he added a service line a couple of feet behind the baseline – I believe in a Handsome-8 Pro Tour Event (current ESPN announcer Cliff Drysdale being one of them), with prize money (all players receiving money in any events were summarily banned from all tour events including the Grand Slams – that's how Roy Emerson got all those titles until Pete Sampras finally surpassed him).
This true "service line" was aimed at minimizing the big serving advantage (yes, even with gut strung wooden rackets with leather grips and no polys) on the very slick, lightning fast grass courts of the day. For my tour debut effort I received $0, a ham sandwich and a nice copy of the draw, along with a rude awakening of the dead-end financial machinations of my dream tennis world at that time.
Today the tie-breaker is very much alive and well, both in its more common "7-points by 2" version, and with the third set replacement "10-pointer", both in club tennis and increasingly on tour. With the U.S. Open leading the way in 1970, three of the four majors now use versions of the tie-breaker to eliminate any future multiple day marathons – especially think: Isner vs Mahut's impossible 78-76 in the 5th at the 2012 Wimbledon.
Only the stubbornly tennis traditional French, of course, resist not only rejecting any and all TBs, but also insist that it's better to have the umpire coming down out of his/her chair to check a ball mark on the earthy red terra batu than utilizing the otherwise now universal computerized Hawkeye System to settle disputed line calls by locating the "mark," which can at times become very elusive at your local clay court club.
So, 55 years later, thank you Jimy Van Alen for all you did. Proud and honored to have known you.
Copyright© 2019 by Jak Beardsworth Tennis. All rights reserved, including the right of reproduction in whole or in part in any form.
COMMENTS WELCOME: JB1tennis@comcast.net