JAK'S MONTHLY ESSAY SERIES: Achieving Your Personal Best
How

the

Toss Primes

the

Serve Relaxation Pump

May 2022

It's no surprise to see tour professionals catch the occasional errant toss – indoors (mostly nerves) or out (mostly wind) – deciding at the very last moment that it would be a better bet to completely retry.
Accurately tossing an extremely light 2 ounce ball, severely contrasted by an estimated 8-10 pound arm tossing lever, is no easy task to control, especially for club players, never mind the pros.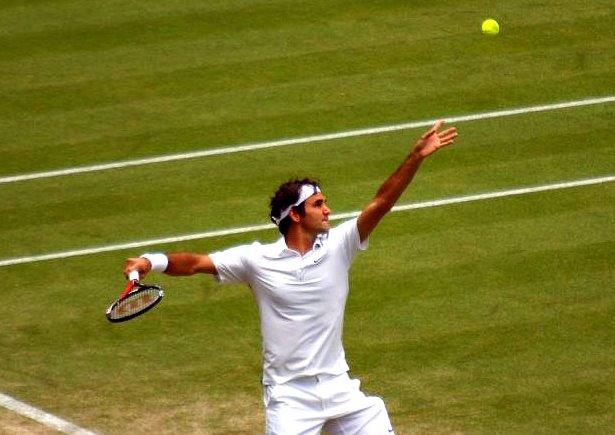 The key is in consistently placing the ball precisely where you like it, depending upon the type of serve you're hitting. Slightly to the left (for a righty) and back somewhat for a high trajectory bending spin serve, slightly right and in front for a lower flying slice or "slider" as it's being labeled on TV telecasts these days, or mostly neutral and in front when going big with relatively little spin, that is unless you're a Pete Sampras or Serena Williams who could back then, or with Serena still now, hit any serve off the same basic toss making returner readability tricky.
Qualifier: Leave the elusive "kicker" to the pros. Period. It's a label thrown around by club players without knowing a spin serve is only actually a kicker when the ball jumps to the right after bouncing instead of the typical left movement for a right hander server.
So what's the magic elixir utilized by those who almost never have trouble tossing? In a word, RELAXATION.
This is where one's signature pre-serve ritual can pay big dividends, in part represented by all those gyrations and ticks you've all seen Rafa repeating to perfection over the years prior to launching, or Djokovic bouncing the ball umpteen times as extreme examples. Interestingly, those who poke fun at the aforementioned versions, or devalue them in general, typically have suspect rituals, or none at all, and are generally not good servers as a direct result.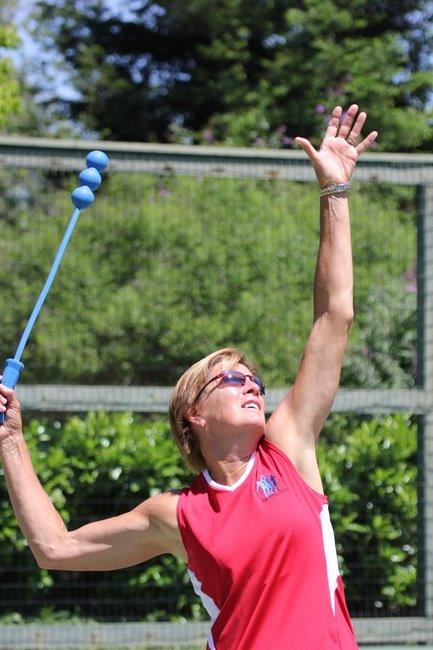 Rituals are effective in preventing the tossing "yips," defined by Merriam-Webster as "a state of nervous tension affecting an athlete in the performance of a crucial action," especially because of its positive influence on the tossing off-arm itself.
If afflicted, it can then become mental as well, a double whammy of troubled tossing along with undermining self-doubt as well. Even a highly ranked player (WTA top ten) such as Aryna Sabalenka's stature, if you've been paying attention lately, can become victimized.
Anytime, in any sport, when you're performing from a static position, the body relaxation ante goes way up, and is huge, in order to help foster a quiet a potentially overly conscious minds that always cause excessive, spastic muscle tension
These pre-action sport universal counter measures are employed by golfers when "addressing the ball" with all that wiggling and waggling, basketball players dribbling in place at the line when shooting foul shots, baseball players practice swinging in the batter's box readying for the pitch, or tennis players embracing their individualized ritual ball bouncing and variations of synchronized arm "rocking" motions that initially connect the ball and the racket – which can absolutely function as a toss rehearsal - are familiar to most, and are aimed at triggering a relaxed tossing arm prior to launch.
"Bodies in motion stay in motion," a commonly shared mantra that conversely goes "bodies at rest stay at rest." I prefer to characterize the latter as "bodies at rest not only have difficulty getting going but also in maintaining body rhythm." All-around silky smooth serving motions (new star Sebastian Korda immediately comes to mind) are preferred versus, to recognize a long standing description, "herky-jerky" truncated ones (now I'm visualizing ATP top 100 player Federico Delbonis) that commonly occur at every club around the world - dictionary defined as "…sudden, irregular, or unpredictable movement or style" – are a big factor in out of control tossing.
"You've got to take care of your toss." – Mary Carillo.
Technically, how you hold the ball in your tossing hand is crucial. Those who tightly envelop the ball with their entire hand in a palm facing up position tend to roll it off their fingers creating uncontrollable spin, and "wrist tosses" that end up too far back in the serve strike zone. Better to just lightly finger, thumb tip the ball in an anatomical position – likened somewhat to holding an ice cream cone - while extending the tossing arm fully upward, releasing the ball at full extension with a fixed wrist generating close to zero spin by simply opening up your hand.
Coiling one's body during the toss not only obviously helps load the racket (trophy position), but can also help trigger a toss relaxation that spreads throughout the entire service motion. Standing motionless and then stiffly "arming" a tin man serve with a precious little kinetic body chain will always adversely affect toss reliability.
Lastly, do not prioritize always catching "bad" tosses! Overrated and misunderstood.
But what if it is a bit windy? A slightly imperfect toss is still serve doable, wind or no wind. Instead, prioritize being fully committed to aggressively, positively going after every single attempt. If the toss suddenly turns out to be completely out of your strike zone then, okay, rely on spontaneity to stop and catch (long standing tennis etiquette suggests that you say "sorry" to the ready returner).
Consciously pausing momentarily to decide, each and every time, if your toss is good enough to hit will lead to a loss of fluidity, bad timing, and a hard to improve upon serving habit.
This is collectively by no means the end all to better overall serving, but out of control tossing will severely limit any possible improvement, and, despite any reasonably good mechanics otherwise, the entire service will be negatively affected and doomed to inconsistency.
Copyright© by Jak Beardsworth Tennis. All rights reserved, including the right of reproduction in whole or in part in any form.
COMMENTS WELCOME: JB1tennis@comcast.net