JAK'S MONTHLY ESSAY SERIES: Achieving Your Personal Best
Protocol

and

Game Tradition Revisited

September 20

Having been fortunate enough to be in the game we all love for a lifetime, spanning many decades, I've seen just about everything imaginable at every level, both right here in Florida, in many other states, and internationally as well. But, wherever I am or have been, I'm always simultaneously disappointed and concerned when I witness, first hand, our game's long standing protocols and traditions ignored, or worse yet, flouted.

In this day and age of animus and contentiousness all around – and as the COVID-19 threat remains among us - tennis, to so many, remains a valued refuge of civility and social connection. Being constantly cognizant of the norms of accepted on-court behavior becomes more and more relevant in such a polarized society.

Make no mistake about it, ignorance is usually the reason for the sometimes boorish on-court behavior, but that's never a viable excuse.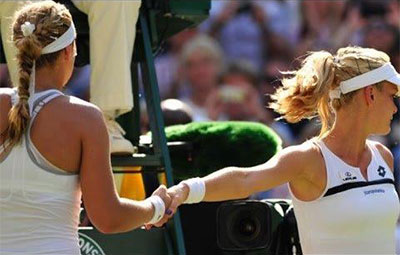 Sabine Lisicki shakes hands at the net with Agnieszka Radwanska after Lisicki won their women's singles semi-final match on day ten of the 2013 Wimbledon Championships tennis tournament. (GLYN KIRK/AFP via Getty Images)
When coaching junior players just starting out, I always include making them aware of tennis' rules, and unwritten rules, as an important component in learning to not only play the game, but to respect it as well.
For me, it's a responsibility equally important as developing clean ball striking.
It's the same with adult players who have come to the game later in life. These are individuals who did not grow up in the game, some of whom, often unschooled of how the game should be played, would no doubt embarrass themselves if invited for some friendly doubles by a member of that tennis cathedral, the All-England Club, or at any of the many generations old, tradition steeped clubs right here in our own country.
Nonetheless, at this juncture, my experience is that those stewarding the tennis ship – national federations, team captains, league officials, club chairpersons, players in the know, and some club pros too - sometimes fail to fully address the historical expected do's and don'ts when on court, resulting in a hodge-podge of behaviors that are often an affront to the long standing spirit of the game.
This can be especially disturbing to those players who are both aware of, and respect, tennis' traditions and protocols to the nth degree. This dynamic can, and often does, lead to a contentious atmosphere and an unfortunate undermining of sportsmanship when these two factions collide.
Sure, let's "grow the game" – the never ending mantra of the tennis industry in the U.S. since the end of the amazing boom of the 1970's – but let's do it without abandoning its valued customs, especially the civility and sportsmanship component.
So, let's begin with the pre-match warm-up - tennis' ongoing very own pandemic. We are definitely not "all in it together" to say the least. Of course, tennis is the only sport that I'm aware of where you warm-up with your opponent. Unique. But, unlike tour professional's showing and giving mutual respect, some club players immediately, combatively, selfishly start practicing winners at full pace, preventing an opponent their warm-up opportunity. That's something a professional, with far more firepower, would never do.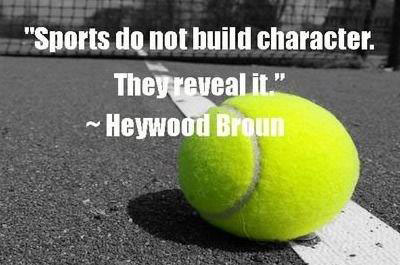 Thankfully, it's right there in the USTA Code of Conduct: The warm-up is not practice, it's a cooperative. That means hitting back and forth with the opponent, mostly not quite at match speed, but instead rallying back and forth, "trading" shots in a cooperative manner. Admittedly this is far more challenging, and far less efficient, when club players curiously warm-up with just 3 new balls for 4 players in the usual club doubles scenario, and, obviously, without the aid of ball kids.
Spending more time picking up balls than hitting them. Baffling. No wonder so many don't want to "waste time" warming-up. Ugh.
The smart European 4-ball can, better suited for warming-up, particularly in doubles, strangely never caught on here.
In any event, consider that the likes of the Bryan Brothers et.al. have 6 balls, have ball kids, and seldom make errors. So why do clubbers set themselves up for frustration and warm-up failure with just 3 balls? Why not two (2) cans of new balls to at least solve part of the problem?
Now, with six, there's an opportunity to start the match out in good stead as a result of a more functional warm-up to achieve a better level right off, versus typically needing an entire first set for players to find their stride.
By the way, there is no "FBI" in tennis. Totally lame. If there was a legitimate FBI then I suppose it would follow that there would be a "FRI" as well – first return in. Further, once the first point is played there are no more opportunities to warm-up further.
The match is on. Those are the rules! So, how about everyone taking some practice serves before starting play.
Making fair line calls can be another abomination. At one time, in a land long ago, the ball was called good whenever the player making the call was in doubt. Doubt went in the opponent's favor. That has devolved into, in far too many instances, "when in doubt call it out," which actually was a tongue-and-cheek comment made in that same long ago land mocking those who seemed to always take the point whenever in doubt on a close call.
Unfortunately, these days there are those who fail to get the true spirit of competition.
These folks are so consumed with winning – even in friendlies - that their brains play tricks on their eyes. They don't need corrective eyewear. They need personal counseling.
And what about footwear on our – hopefully - beautifully groomed clay courts?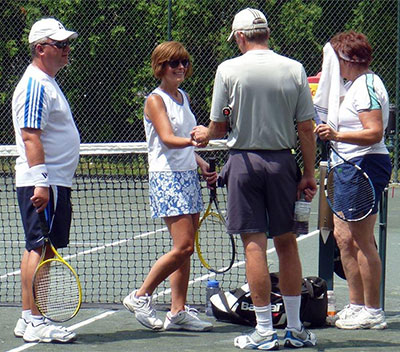 We are especially fortunate that we here in Florida, and other places as well, have an abundance of these forgiving on the body courts. However, clay courts are maintenance intensive – especially in heavy periods of rain - and the only good clay court is a well maintained one. Yet, I routinely observe players wearing improper footwear such as running shoes, cross trainers, and even some hard court tennis specific kicks - all of which feature outsoles that would pass for snow tire treads, good for a Maine winter, that rip up the top dressing, cause divots and scars, and ultimately, over time, result in the loss of a consistently true bounce… on one's own club courts no less.
Clay court specific footwear is readily available at your local tennis shop where you can get a proper fit – such as Wrigley's Tennis in Punta Gorda, Florida – or you can go online if a top notch shop is not available in your locale. They feature a less intrusive tread pattern that not only does not damage the surface, but also provide surer footing and tennis specific support as well.
Finally, I could write a book just on these aforementioned issues along with a few more.
Examples like properly returning errant balls to an adjacent court by waiting 'till their point is over, sending a ball without aggression to the server in need, not hindering opponents with verbalizations just as they are about to strike their shot, time between point issues, changeover time violations, repairing any major court divots you made, settling score disagreements, obsessively looking to call foot faults on 40 mph serves, volunteering "not-ups," and annoyingly practice returning obviously out first serves which hinders the server's rhythm and disrupts game flow.
Wait, I forgot to include in all of that on-court comportment review calling the score out prior to the start of each point.
That's the server's responsibility, not that someone else cannot chime in as well to keep order. Those scoring disagreements start when no one is bothering to call it, then after a number of points have been played mass confusion begins, especially among those old enough to recognize the name Roy Emerson.
So yes, there's quite a bit to it, but if everyone who loves playing the game would make it a point to get on the same page as addressed in these basics, we'd all have a better, and a more fulfilling experience, including those who may not actually play the game but who dedicatedly take care of, repair and maintain, our precious clay playing surfaces.
How about considering celebrating our game's uniqueness every time out on the court, including appreciating everyone's hard earned, relative skill development regardless of their official NTRP level, its obvious health benefits, and its special social component by truly respecting not only its traditions and protocols, but your opponents and yourself too.
Regardless of match outcomes, official or otherwise, let's make all our tennis experiences win-wins.
Copyright© 2020 by Jak Beardsworth Tennis. All rights reserved, including the right of reproduction in whole or in part in any form.
COMMENTS WELCOME: JB1tennis@comcast.net