JAK'S MONTHLY ESSAY SERIES: Achieving Your Personal Best
Shot Gazing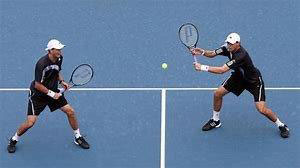 Quite the clever phrase, coined by one of the best players I work with, representing a not so unusual tendency among some club doubles players to expect, after a particularly good penetrating volley that's struck with perceived authority seemingly right through or past opposing net players, that it's not coming back, chalking up the point prematurely, and stopping play.
Houston, we have a problem since it sometimes does come back, and you've left the building.
Volleys, even reasonably well placed crisp ones, can indeed be handled and returned by equally skilled players, and the "shot gazer" - that could be you - is left unprepared to play on. The point that was potentially yours, one that you were initially on top of, slips away by letting an in trouble opponent off the hook by not following up for a second volley, and another and another if necessary to stay on top and finish.
"Gazing" feels kind of like you've been caught with your hand in the cookie jar, and like you have lost two points. The giving Christmas spirit year 'round.
So now – even though you are not a world class volleyer - consider the doable for anyone mind set always on display in pro tour doubles: They clearly expect balls to come back, don't seem to mind, and doggedly continue in pursuit of any next incoming response to continue the attack, or defend if all has gone wrong.
Kind of interesting that the planet's sharp shooting best shot makers are the ones taking nothing for granted.
Clubbers can also be negatively influenced by the non-stop "gotta put it away" pressure that they put on themselves, and their partners, that I constantly here bantered about. This well intentioned mind set contributes to an unwanted, last moment, up tight emotional state that leads to rushed, over cooked, tiny margin, blown opportunities.
The "shot gazing" issue then becomes irrelevant since out balls need not be returned.
Just keep playing. "It's not over 'till it's over," as the venerable saying goes. Assume nothing. Just hit effective targets to eliminate that undermining "winner" burden. Adopt the mind set of the pros by expecting it to come back, undeterred. You'll not only reduce your unforced volley giveaway errors in particular, but you'll also avoid looking foolish when it is returned and you're out to lunch.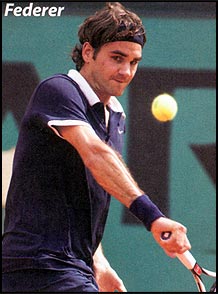 Consider Roger Federer's view on some of this? At a past nation's Hopman Cup in Australia, playing mixed-doubles with Swiss partner Belinda Bencic against the American team of Serena Williams and Frances Tiafoe, Federer crossed at one juncture and poached a weak Serena return only to miss an "easy" volley through a defenseless Tiafoe. In the post-match on-court interview Jim Courier good naturedly chided Fed for the missed opportunity with which he sheepishly responded with the very same embarrassment you might feel, "Yeah, I missed my target." Take note! One of the game's greatest all-time shot makers did not say, "Yeah, I should have put it away."
Roger's a pretty good model. I'm thinking we should all operate like Roger.
Copyright© 2020 by Jak Beardsworth Tennis. All rights reserved, including the right of reproduction in whole or in part in any form.
COMMENTS WELCOME: JB1tennis@comcast.net