JAK'S MONTHLY ESSAY SERIES: Achieving Your Personal Best
Getting the Ball Where You Want It
When on court is there any better take away than the feeling of a perfectly struck shot? The exquisite tactile feel of the ball on racket, a mere thousandths of a second, yet impacting as if it were there for eons longer. Felt really good. Sounded really good. Was really good.
Becoming one with the ball. World class for a fleeting moment.  
Difficult for club mortals to achieve this on anything close to a consistent basis, it requires a perfect storm of technique, movement and mind set in very narrow corridors of shot making time. But still, at the very least, possible for most everyone, albeit a 10 on a steep 1-10 scale.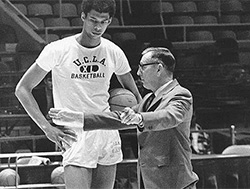 Legendary basketball coach and teacher, John Wooden, had an informative take on this: "When you see a successful individual, a champion, you can be very sure that you are looking at and an individual who pays great attention to the perfection of [seemingly] minor details."
If it's groundies being referenced, if you're going to have any chance at experiencing these moments of tennis bliss, it's paramount in getting the ball right where you want it, when you want it, in your preferred strike zone - ideally an adaptable one - for a perfect shot dynamic.
Nothing to it. Right? ...Hardly!
In sharing an early career practice session with an already all-time great Jimmy Connors, Tennis Channel's Paul Annacone (career high ranking of world #12) explained his awe of Connors' uncanny ability to "get the ball right where he wanted it" every time.
Footwork
Jimmy, of course was, and still is, one of the best movers in the history of the game. Not balletic like Roger Federer, but more of, if you will, a blue collar stalker of the ball, stutter steps galore. More club player friendly, but greatly misunderstood, and with a physicality underestimated by many.
Achieving perfect shot spacing – that means both laterally and longitudinally (forward/back) – is essential in becoming a mean, clean, ball striking machine. What's that time tested adage? You play the ball, do not let the ball play you, leading to jammed, hand-cuffed, awkward hitting positions.
When you do experience being in the shot making zone and on auto pilot, there's a real deal sequence of events that – thankfully always the same without deviation! – is actually taking place, the components of which enable you to become the consistently solid ball striker you want to be. You'll even have the occasional ethereal moment that the Swiss maestro who, after his straight set destruction of the highly touted next gen grass courter, Matteo Berrettini, at the recent Wimbledon Championships, described this way: "It just feels nice. You rock up to a ball. You're like, 'I know I'm not going to miss [this] one.' You hit a winner. Then you do the same again and again. That's probably one of the best feelings you can get as a tennis player on a tennis court."
Okay, you're not Roger and you can't quite do that, but you can get a taste of experiencing what he does if you get in the habit of an all-encompassing shot sequencing template.
First you recognize your opponent's shot is incoming to your forehand, backhand, or perhaps it's a runaround your backhand opportunity. Then, based upon its approaching speed, spin, shape, and depth, you instantly know how you intend to play it, whether that's on the rise, up high at its apex, or as it descends low into your wheelhouse. Simultaneously, you also have a clear sense of where to position yourself to meet the ball – that's the crucial lateral and longitudinal spacing previously noted. Finally "seeing your shot" in your mind's eye - visualizing your reply intentions, or thinking in pictures (imagery) - all of which collectively pulses through your mind, sequentially, and ridiculously, unmeasurably fast.
Here's a summary:
Early Recognition – forehand, backhand or runaround
Reading it – incoming speed, spin, trajectory, bounce angle, depth
Playing it – on the descent, at the apex, on the rise… getting it where you want it with topspin, underspin, or flat.
Positioning – both laterally and longitudinally
Visualizing – intended margin over the net, court placement, margin to the lines.
This deconstruction of the shot response process becomes doable when you begin to become cognizant of it, including a constant, shot-in and shot-out awareness of it. It's tapping into the magical human brain's fantastic abilities, often referred to, simply, as muscle memory.
Getting the ball right where you want it, versus being randomly out of an efficient striking position far too often, will result in a huge difference in your game.
Copyright© 2019 by Jak Beardsworth Tennis. All rights reserved, including the right of reproduction in whole or in part in any form.
COMMENTS WELCOME: JB1tennis@comcast.net