JAK'S MONTHLY ESSAY SERIES: Achieving Your Personal Best
good misses

vs

bad misses

October 2023

Yes, there is a distinct difference.

Example: From your back court position on deuce side returning serve, or in an in-point exchange, you certainly do not want to be poachable. But, despite being well intentioned to direct your return cross court to make the back court opponent uncomfortable, you make contact with your forehand slightly too far in front – maybe as little as a half-inch – and your ball, although landing with good relative depth, goes a few inches out just beyond the doubles sideline.
That's a good mistake!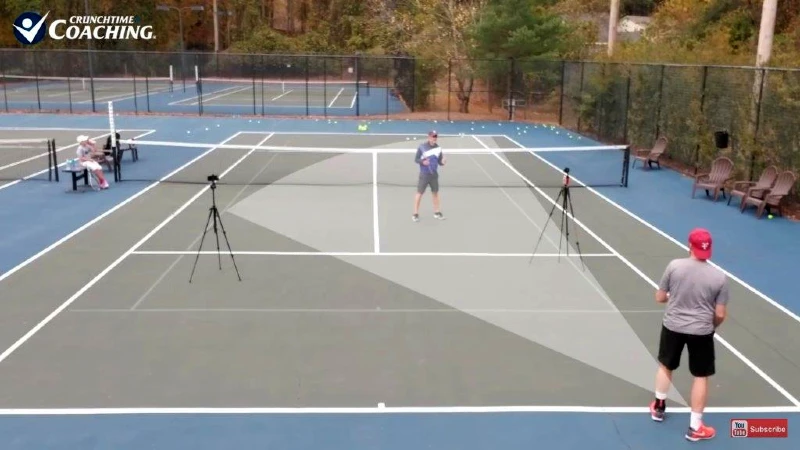 It's one which is readily correctable – typically corrects itself - as you begin to find the range – trial and correction. In the 2023 U.S. Open men's semis duel between eventual champion Novak Djokovic and young Ben Shelton, Shelton's Dad/Coach (Univ. of Florida Coach as well) encouragingly told Ben, "good miss," after he just missed a crucial third set open court down the line forehand bomb intended to be deep and in the corner, maybe even a winner as a result.
In this mostly cross court doubles game, when you're not quite enough in front at contact -by comparison a bad mistake! – one that often results in low hanging fruit for an aggressive net man (aka Net Monkey) that gets your net partner killed. The ball played you to some degree, even a small degree is enough to get you exploited. You meant to go after it well in front – the right idea - albeit just not committed enough to risk too far in front.
Play the ball. Never let the ball play you no matter what your intentions are. Always risk the good miss vs tentativeness or being too careful. Even if all goes wrong on a given shot at least you're on the path to righting the ship. The mental/emotional part of this dynamic is best exemplified by my often cited Rafa Nadal quote: "I'm not afraid of losing; I'm afraid of the fear of losing." Just juxtapose "making mistakes" for "losing."
Specific shot visualization, immediately upon recognizing an incoming ball as a forehand, backhand, or runaround – in advance on a serve return - will bolster your commitment regarding taking the ball on aggressively since your intentions are clear. Your inner player knows when you don't know precisely what you wanted for your shot, instead hoping for a good result. Over there somewhere is a surefire recipe for indecisive failure.
Do not allow a 2 ounce little yellow ball to push you around. Take charge of your Self.
Finally, do not be fearful of periodically, early on, attacking net players – right at their belt buckle – who are active poachers to keep them honest. Any loss of point experienced is an investment in the match. Or lob over them as another option to keep them "honest," and then close in to the net.
---
Copyright©2017- by Jak Beardsworth Tennis. All rights reserved, including the right of reproduction in whole or in part in any form.
COMMENTS WELCOME: JB1tennis@comcast.net