JAK'S MONTHLY ESSAY SERIES: Achieving Your Personal Best
Playing

with

both your feet

and

your hands

July 2021

There are two systems of coordination that, working in concert, enable you to play your best tennis from the back of the court: Eye-hand coordination, of course, yet with a "stick" in hand in this instance, and a seldom heard term, eye-foot coordination. The latter refers to being in the right place at the right time. That's effective positioning with roomy "spacing" produced with an energized brand of footwork. Finally culminating with a well- timed last ball striking step (guaranteeing that you are tracking the ball) - open or closed stance - for an anatomically comfortable and leveraged shot. The former is about getting your racket on the ball well in front of your body, ideally in your chosen strike zone - preferably your knee to thigh high "wheelhouse" but with comfortable ball height flexibility - for maxed contact duration occurring on the money right in the string bed's sweet spot for "clean" shot making, and that great "feel" and sound.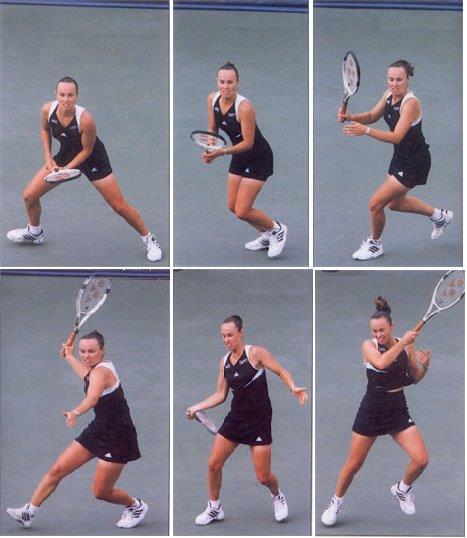 The great Martina Hingus superb footwork on an open stance forehand.
From personal experience, I came up as a 12 year old, with mediocre coaching, playing instinctively mostly with my feet, which were quick, fast and agile. That came naturally, graced with my National Soccer Hall of Fame Grandfather's DNA perhaps. Hand skills were a different matter. Not nearly as natural. Had to work hard at learning to use those heavy, dead wooden rackets efficiently. But, because I was a good mover, both defending and attacking, that's how I approached the game.
Now, eons past my prime playing years, I am not a good mover, and now having to strive to play better with my hands without the support, and advantage, of being well positioned for my shots.
At the 2021 French Open, Roger Federer, in an interview after his looking good second round win – coming after a year and a half layoff due to two (2) knee surgeries and Covid-19 tour restrictions – referred to "the top" (upper body ball striking) as looking smooth and deceptively easy due to the hard work by "the bottom" (footwork).
It seems the feet, both - 63 years on-court and counting - are worn out. My excellent tennis player Podiatrist, Dr. Marius Espeleta, Cape Coral. FL, explained that like a dog with pads on their paws, humans have padding too, just not visible, and that mine are worn out resulting in the necessity of lots of extra cushioning in my shoes. To make matters more challenging, one knee is in need of replacement. To be able to just keep going, such as it is, I have had a total of 64 synthetic synovial fluid shots (OrthoVisc – Hyaluronic Acid) to date, to offset, somewhat, mobility that I describe as molasses coming out of a jar.
That's slow. Very slow. Anyone who clearly remembers the intense Ilie Nastase - Stan Smith rivalry back in the day can probably relate.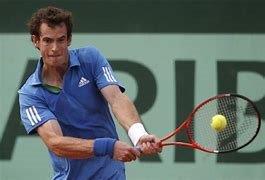 Andy Murray making contact right in the sweet spot.
o, now without the ability to make last second positional adjustments, resulting in often not being at the right place at the right time, relying on my hands more becomes a necessity. This includes when a "bad bounce" occurs, which everyone experiences on any clay court, even those at the hallowed Roland Garros cathedral of "dirt ball." I recently observed multiple major's winner and world #2, Naomi Osaka, at the 2021 French with her own underwhelming footwork on the terra battue in Paris… not to mention her now widely known emotional issues.
To minimize motoring physical limitations at this stage, while simultaneously maximizing my hand skills quest, I keep my over grips fresh, changing them daily. Yes daily! That tacky, secure feel of the racket in my hand, even on the occasional mis-hit, facilitates that all-important maxed relaxation for low grip tension. I also pay more attention to my string tension, always adjusting for seasonal changes to get the feel I like, while restringing often, or approximately every 20-25 hours on court. What? Frame of reference: Summer in Florida – 100-110 degrees on the court, and that's clay, pretty much every day now for months which can accelerate tension loss.
To compensate further, I have to aspire to be a superb ball tracker - both incoming and outgoing – to both get off the mark fast and create a perception and reality of more shot making time, and to maximize movement despite the disappearance of even a hint of any remaining fast twitch muscle fibers. Careless tracking, at this juncture, for me or anyone chronologically challenged, then becomes molasses still in the jar, putting too much onus on one's hands alone to take care of business.
Also playing at a lower center of gravity with a wider stance – putting the stress more on the quads and less on the creaky knees - I employ what I call the "Stalker-Walker" mode of motoring. That is, again, reacting to incoming shots right off an opponent's shot impact, enabling a then workable, albeit slower, low to the ground brand of positioning. Successfully measuring the necessary foot speed and projected spacing for shot positioning, all of which first begins with landing a "split step" precisely at an opponent's moment of contact, syncing up all the shot making components while allowing your hands a less demanding and more effective role.
For those of you still blessed with great wheels – no knee, hip, or foot problems - use them as effectively as you can on every ball to enhance your hand skills. In my often referred to words of wisdom on the topic from LTA British Pro colleague, Steve Heron – synonymous with Federer's "bottom" reference - "No feet. No game. No future."
Copyright© by Jak Beardsworth Tennis. All rights reserved, including the right of reproduction in whole or in part in any form.
COMMENTS WELCOME: JB1tennis@comcast.net