JAK'S MONTHLY ESSAY SERIES: Achieving Your Personal Best
Caving
March 2022
Happens all the time. It's happened to all players, world-wide, at one time or another for sure.
You've even seen tour players fall victim to it right on television, in front of millions of worldwide viewers, when up against a clearly better player that day. Not unusual at all for club players everywhere to embody it. The negative body language. The game face gone. They eye of the tiger long gone. You can't actually see the negative thoughts, but they are surely there as well. The woe is me mind set on full display.
They have resigned themselves to losing.
One of the special components of tennis is that there is no time clock. You cannot be timed out as in so many other sports – think Tom Brady in this year's NFL semi-final playoff. As most know, and have no doubt experienced, a match can quickly pivot from what appears to be an inevitable defeat to an unexpected victory – interestingly victory typically belongs to those who believe it the longest. One point, one shot could turn it completely around. And suddenly you're back in a match that looked hopeless.
Caving, dictionary defined as "…ceasing to resist," it's not quite the same as "tanking." That's where players accelerate losing by overtly not trying at all, zero. Caving is more nuanced. It's still trying but losing hope due to being outclassed by a better player that day. Still putting forth effort, but not enough to embrace at least the possibility of prevailing in the end.
Not believing. Negative outlook.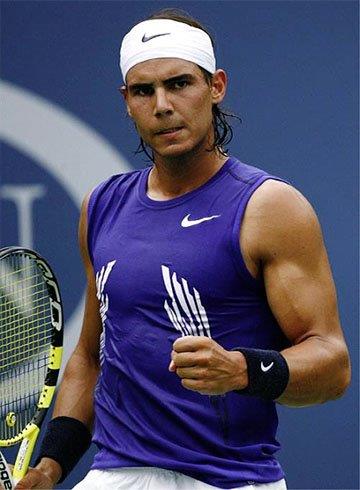 When is the last time you saw Rafa Nadal cave? That would be never. Whether a Grand Slam final – look no further than his 2 sets down come from behind recent win over Danill Medvedev at the 2022 AO final - or a lower level ATP 250 event. Doesn't matter. Right down to match point against, he'd still be believing. Fighting more and more, tooth and nail to the end. Actually relishing the fight. He is the all-time poster boy of mental toughness.
Even the greatest fighter of an earlier generation, Jimmy Connors, succumbed to caving on a rare occasion. I witnessed it first hand in an ATP major final, at his namesake Jimmy Connors Tennis Center at Sanibel Harbour Resort - versus an overwhelming backcourt performance by the Ivan Lendl backcourt machine circa 1986. He stopped believing.
Yet, that same Connors, who was once seemingly totally down and out to Swedish star Mikael Pernfors 6-1, 6-1, 4-1 in the 1987 Wimbledon 4th round, roared back to win 1-6, 1-6, 7-5, 6-4, 6-2, kept believing.
Never give up. Always maintain an engaged body language, and display an undeterred game face – reflections of what's going on inside your head. That in itself will be influential in providing a positive outlook and a better functioning body chemistry balance – yes you can biochemically influence your Self and your performance. And, every once in a while provide that turn-on-a-dime, magical result.
Copyright© by Jak Beardsworth Tennis. All rights reserved, including the right of reproduction in whole or in part in any form.
COMMENTS WELCOME: JB1tennis@comcast.net