JAK'S MONTHLY ESSAY SERIES: Achieving Your Personal Best
Extracting Double Faults

Through

Receiving Positions

... and

more

July 2022

Altering return positions can positively have an effect on reducing server success, and even draw a double fault at times as well, especially in pressure situations.

Giving them a different "look," simply by changing positions - left, right, forward, back - can affect serving comfort levels versus always remaining in the same position. Even tour players can be impacted. Just watch the Tennis Channel and see for yourself.

Let's start with my personal favorite versus an opponent with a less than stellar second serve at a pivotal moment in a tight match, particularly in the ad court where a righty can overtly position themselves in the alley, or beyond, looking to crush a cup cake guaranteed forehand opportunity deep into the server's backhand.

Or, generally, going deep and at them – a tactic that too many club players wrongly think has no upside potential -like world #1, Iga Swiatek, does so often to immediately make an opponent uncomfortable on their serve.

And then there's, as utilized repeatedly by this year's French Open doubles champ, veteran Kristina Mladenovic, attacking vulnerable, sitting duck net players - that would be Coco Gauff and Jennifer Pegula, both top ten singles players who became deer in the headlights by the end of that double's final - by drilling weak second serves right through their belt buckles (naval destroyer) from any advantaged position. (Faux apology at the ready…or not.)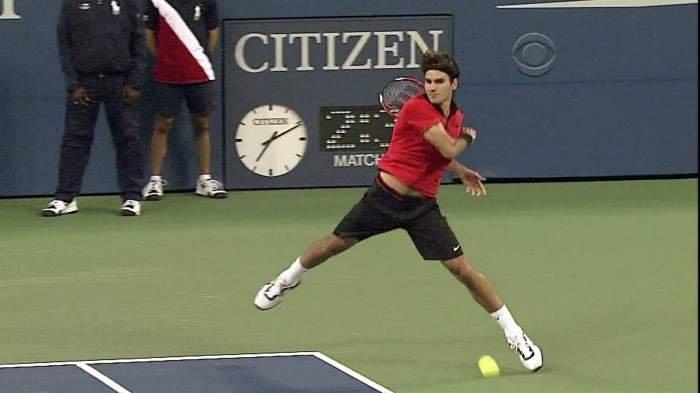 When utilizing that extreme ad court initial return position, besides gaining a mental advantage, the typical server in Clubland will be initially dumbfounded when faced with this "look", notably at the important junctures, probably give you a double take, and then either put in a Grandpa-Grandma serve, go for a delusional ace up the exposed T, or just choke and double fault.
Back in my playing days, I always found this tactic to be effective - while seldom being aced up the T – even against world class players if used sparingly, or more if I found it bothered them on those key ad side points.
Keep in mind that as the server busies themselves with their toss and contact, it's prudent to sneak back a little to be on the safe side, but not completely – they cannot see you after all – in the event that you discover that they are indeed capable of pulling rabbits out of the hat, and deliver penetrating T serves.
If you know that the chance of a particular opponent actually delivering that is slim, don't bother.
Even if they do find their spot on occasion, you can still be a bit late to the contact point and safely pull off an effective inside out return moving into the court.
Definitely far more risky in the deuce court since just about every Tom, Dick, and Harriet clubber can serve wide to the forehand (righty), and foolishly predictably do so too often. One must be limited in any positioning that leaves too much court to cover on that side, especially since any un-poachable cross court response must be struck well in front which can be very challenging with the ball angling away out of reach.
A related tactic is to stand way in, near the service line, to intimidate, and challenge a weak second delivery. You can, if leery, adjust back somewhat when they get busy with contact with their head up. Just another way to Vulcan mind melt shaky servers.
Another option, particularly useful versus those with a big first serve, is to stand way, way back behind the baseline to buy a little extra space and time. You see players on the men's tour often utilizing it.
At the club level try standing a few feet farther back than your usual. Although admittedly you might be giving up the potential angle –difficult to exploit for the average server – the server's spatial perception can be disrupted by the different "look" and affect accuracy.
So, there you have it. Be willing to experiment, especially in friendlies. Avoid one trick pony receiving positioning. Diversify your game.
Continually growing your game to improve and raise your level is always doable. It just takes the commitment to do so.
Copyright© by Jak Beardsworth Tennis. All rights reserved, including the right of reproduction in whole or in part in any form.
COMMENTS WELCOME: JB1tennis@comcast.net