JAK'S MONTHLY ESSAY SERIES: Achieving Your Personal Best
DO YOU HAVE DOUBLES RALLY TOLERANCE?
If you enjoy and appreciate listening to Paul Annacone's expert analysis of players and matches on the Tennis Channel as I do, you've probably noticed that, on occasion like a few weeks ago, he'll uniquely add to the game's current lexicon.
This time, the former coach of both Pete Sampras and Roger Federer came up with "rally tolerance" while commenting about a very impatient player self-destructing through unforced error after error, while playing way outside of himself.
So what is rally tolerance, especially as it relates to club doubles?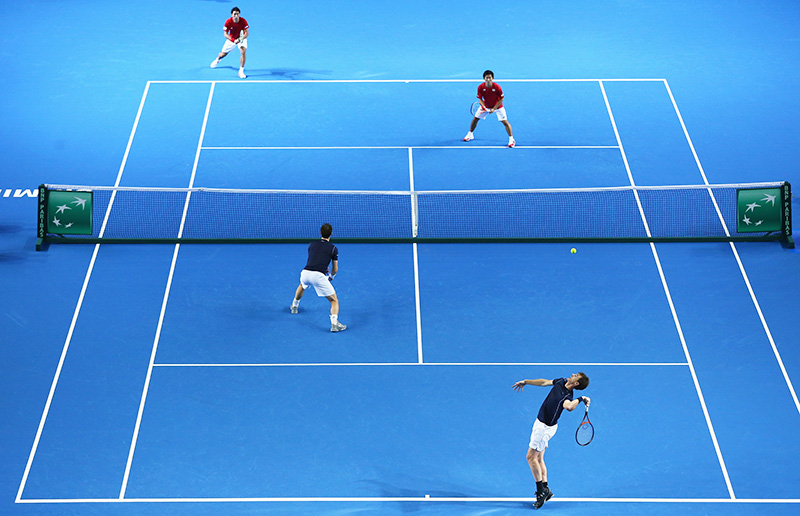 It's being willing to trade cross court groundstrokes with your opponent from the backcourt until a short ball opportunity presents itself to come in behind; or taking the opportunity to go down the line versus a net man who is poaching and has left early; or lobbing defensively over a net man when handcuffed with a penetrating incoming ball.
Patience!
Too many club players reach the 3rd or 4th ball when trading cross court shots and panic. They have, wrongly, perceived that they are losing when engaged in a stalemate. One's perception in a long rally should be that you're winning.
Avoid panicking or blinking first and going for a high risk shot – that's not playing within yourself. It's okay to lose to a better team that's out-executing you with superior shot making. It's not okay to lose by making bundles of unforced errors to a beatable team.
Make them play. Heck, let them play – ever notice that you thought you were the better player when you warmed-up cooperatively, making few errors without that gotta-win-the-point mentality? Be willing to engage opponents once the match starts as well. Just about all matches in club doubles, among relatively equal players, are lost not won. Even at the pro tour level, look at the stats at a match's end and you will see that, almost without exception, the team that made the most unforced errors, not the most winners, loses the match.
It's all about execution. Sure, be aggressive, but with safe margins to the lines and the net. Don't be all wrapped up in winning. Instead, be focused on performing your best with the game you have arrived with on every point.
In the 2019 Hopman Cup, Roger Federer missed an easy volley put-away that Jim Courier razzed him about in a mixed-doubles match. An embarrassed Fed responded with, "Yeah, I missed my target." He didn't say that it should have been a winner.
Slow down, don't be in a hurry to win the point. and embrace rally tolerance when it's called for vs playing with your hair on fire.
Copyright© 2019 by Jak Beardsworth Tennis. All rights reserved, including the right of reproduction in whole or in part in any form.
COMMENTS WELCOME: JB1tennis@comcast.net