JAK'S MONTHLY ESSAY SERIES: Achieving Your Personal Best
Chalk Flew: Troublesome Line Calling

without

Hawkeye

in

Clubland

Who can forget John McEnroe melting down in a 1981 Wimbledon first round - already dubbed by the British press as "McBrat" - screaming out at the chair umpire, "chalk flew up," among other things, after the umpire refused to reverse an apparent ace on the line that was called out by the volunteer linesman.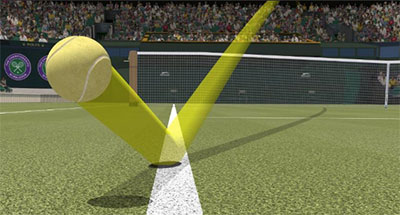 Chalk actually did fly on the All England Club grass center service line, a sure indication that ball was indeed good. His opponent, future US Davis Cup Captain Tom Gullikson, always the perfect gentleman, lingered and looked as if he thought it was good as well.
Of course this was eons before computerized line calling systems (Hawkeye), and also preceded the now professional cadre of paid, trained lines people and chair umpires that tour players also mostly enjoy having present today at just about all tour events.
However, across the channel at the lo-tech French Open, tradition still reigns on the red terra battu where balls leave marks, and umpires are expected, upon player request, to climb down from their perches to confirm or reject any close calls by the lines people in dispute.
Although Hawkeye results are still viewed by the telecast team there, and by us at home watching on the tube, the umpires are off the grid in Paris. The chair's eye test ruling stands when, once down on the court, they either point the mark out with their index finger, or place a palm down to signal good.
Here in Florida clubland where clay courts are often featured – that's "American green clay" as it's known internationally, or Har-tru to us – bounce marks are also left on the court, and visible to help players play fair and square when in doubt on a close call.
As a bonus, when a ball strikes squarely on the plastic line tapes it typically skids rapidly away, noticeably faster than court's normal speed off the bounce, often without leaving a trace. And, can also make a distinct sound as well. If the ball strikes the edge of a line, particularly on so-called "high" lines on poorly maintained courts, it'll squirt off either sideways, jump straight up, or rocket off at warp speed in a barely above the surface low trajectory.
So, despite having no one in the chair to arbitrate, or having the luxury of a hi-tech line calling system with its 10 strategically placed camera location above the court, one would think that line calling by competing players, even in "friendlies" on clay, would be readily copasetic.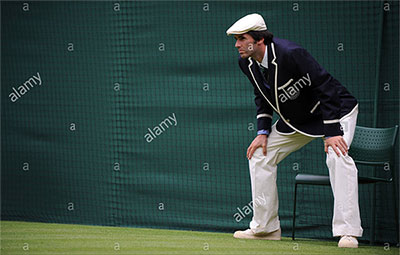 Contributor, Photographer: Allstar Picture Library
Often not so I'm afraid.
But let's get one thing straight right off – no one, and I mean no one, gets up in the morning and consciously decides they're purposely going to make bad calls, or more commonly phrased, cheat their opponent(s) that day if that what it takes to win. This has been well established by psychologists, neuroscientists, social scientists, et.al.
It can get complicated though since those employing the poor eyesight excuse, curiously, never seem to make bad calls against themselves.
Those who make bad calls on a regular basis, and are known for it - otherwise perfectly fine people – are victimized by themselves. Since they are over the top with winning outcomes being vitally important, their brain actually tricks their eyes into seeing what they so desperately want to see. That's the brain and eyes always working in tandem, as always, but in this instance in an unfortunate manner. These folks then become sincerely oblivious to balls skidding off the lines, making distinct noises, and even, here's the kicker, seeking out erroneous ball marks to make their case.
As a player I've had more than a few of these unfortunate experiences, the most egregious happening over 50 years ago – yes I still remember it - when I was an up and coming young teenager in the final of my home city's championship before a large crowd, back when these city tournaments were held in esteem in tennis' shamateur days before the "open era" began.
I was pitted against the area's acknowledged top player and longtime champ, who was not only heavily favored and undefeated, but also highly respected. Then, as it became clear that I actually had the goods to take his title after winning the first set, the bad calls began. Left, right, and deep on any ball that I hit on or even close to the lines. Such was his obsession in not losing to a punk kid still wet behind the ears. I ultimately became totally frustrated at losing key points that I was actually winning - blatant cheating as I saw it - which steadily morphed, being emotionally immature, into some serious anger on my part. I lost my composure and self-destructed. Game, set, match.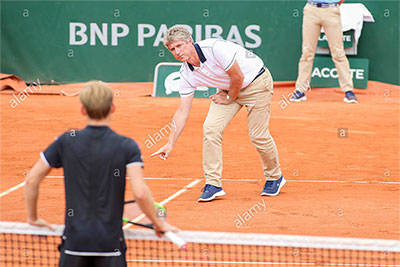 Contributor: Aflo Co. Ltd., Photographer: Nippon News
Lesson learned…don't lose your cool to these folks no matter what the provocation. Persevering and still winning the match is the best payback.
I'm betting that you're no doubt familiar with the decades old line calling so-called joke, "When in doubt, call it out," that's unfortunately, though unconsciously, practiced by more than a few. Not really funny at all for the opponents. Should be something like, "When in doubt, don't be a lout, call it good."
In closing, Willy the Shake understood the human condition, "The fault, dear Brutus, lies not within the stars, but in ourselves."
Compete hard.
Play fair.
Always give the benefit of the doubt.
Sleep well.
Copyright© 2019 by Jak Beardsworth Tennis. All rights reserved, including the right of reproduction in whole or in part in any form.
COMMENTS WELCOME: JB1tennis@comcast.net