JAK'S MONTHLY ESSAY SERIES: Achieving Your Personal Best
TENNIS INNOVATION IMPLODES
I couldn't believe what I was seeing and hearing on the Tennis Channel's recent coverage of the 2019 Barcelona Open.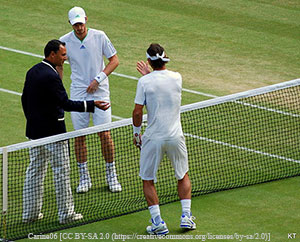 Old School
Just prior to the start of an early round all Spanish match between veterans Fernando Verdasco and Feliciano Lopez the chair umpire, player favorite Fergus Murphy, met both players at the net, as is customary, for the traditional coin flip to determine choice of serve-return-side. But Murphy wasn't holding a commemorative coin, he was carrying a tablet for what turned out to be an
electronic coin flip
that would interface with the jumbo scoreboard screen for fan viewing with each player's face on one side of the on screen "coin."
Blasphemy.
Tennis has made many great innovations over the years, some grudgingly, that have advanced the game forward out of the, thankfully, bygone country club, shamateurism days. Having made my first mark in the game in the 60's (yes with wooden rackets strung with gut), I have been the beneficiary of witnessing almost six decades of positive changes.
This was surely NOT one of them.
Here's my top 10, to the credit of the game's alphabet governing bodies, to name a few:
White to optic yellow balls
Tie-breakers
Computerized line calling (Hawkeye etc.)
Player line call challenges
Electronic net cord detection (too bad for Bud Collins' mythic Fingers Fortescue)
On court posted radar timed serve speeds
On court between point time clocks
Changeover time limits
Injury time outs
On court medical attention
One can only surmise that the Sangria must have been flowing freely when the Barcelona brass decided that the traditional coin flip, with an actual coin, was deemed to be apparently antiquated and not modern enough in the digital age.
Innovation simply for the sake of innovation itself is not innovation? No doubt these blue blazers decided that today's fans would rather watch a giant TV screen than the actual principals live on court in which the umpire normally, clearly orchestrated the results without being plugged in.
Hey fellas, check the demographic in the seats!
Are these the same bozos who dyed their beautiful red terra battue center court blue a few years ago? Actually, it turns out it was not them. That was at the ensuing event at Madrid leading up to the French Open. Nonetheless, maybe there's something in the water that irrigates the Spanish vineyards.
What's really needed these days, and I mean really, is an on-court decibel meter to curb the ridiculous off-the-charts yelling, screaming, and bizarre groaning of certain players at the shot-making moment, both male and female alike. Interestingly, on the men's side, it's coincidentally (?) the Spanish leading the way with their sound barrier breaking, sustained moaning exhalations.
This epidemic is ruining the game and influencing far too many developing juniors, some next-gen pros, world-wide. Tennis is not Olympic power lifting.
While watching an ATP 250 series match awhile back, a journeyman American player became so frustrated and enraged with his French opponent's sustained screaming at the top of his lungs on every shot, amplified on the indoor court, he screamed out at the top of his lungs with a menacing stare while heading for his chair on the changeover: "Shut the f--- up." If memory serves, he received a warning for unsportsmanlike conduct from the chair umpire.
How about something like this: First a warning is issued if a player exceeds the set decibel limit. Thereafter, unlimited point penalties occur without ever reaching automatic loss of set or match. Just loss of point. Simple. Knowledgeable fans would grow weary of the deafening offender and voice their displeasure over such boorish behavior.
Now that would be a welcome next innovation to our beautiful game.
Copyright© 2019 by Jak Beardsworth Tennis. All rights reserved, including the right of reproduction in whole or in part in any form.
COMMENTS WELCOME: JB1tennis@comcast.net