JAK'S MONTHLY ESSAY SERIES: Achieving Your Personal Best
The Zombie Tennis Creed – Top Ten
1) Never ever take a lesson or get any coaching. Blame double's partners for your shortcomings.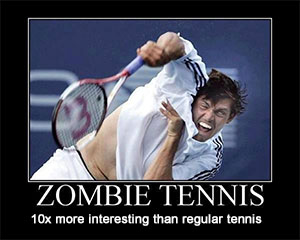 2) Play with old, dead balls "used only twice."
3) Restring every odd numbered year.
4) Don't bother regularly replacing that worn out, disgusting looking over grip.
5) When you do, choose black since it doesn't show the inevitable build-up of undermining dirt and grime.
6) Don't waste time warming-up. Hurry it up to play a lousy first set. Use 3 balls only among 4 players compared to the Bryan brothers who have 6 with ball kids.
7) Start warming-up all the way back while immediately trying to pound winners.
8) Don't take any practice serves. Insist on FBI right before you serve. Screw the actual rules.
9) Hold your breath while striking your shots, and never consider visualizing your intentions.
10) Lastly, forget just practicing on occasion to improve. Play match after match after match after match to lower your level.
Copyright© 2020 by Jak Beardsworth Tennis. All rights reserved, including the right of reproduction in whole or in part in any form.
COMMENTS WELCOME: JB1tennis@comcast.net