JAK'S MONTHLY ESSAY SERIES: Achieving Your Personal Best
Defending the lob over your net partner

– The "Switch"

February 2023

For many years now, despite my commitment to correct a particularly rampant club double's positioning misperception, I still shudder every time I hear, or observe, the dreaded "switch" between club players – some who should know better - intending to adjust their one-up, one back initial alignment after a successful lob over one's partner at the net (See accompanying image of the troublesome lob over the netman by the returner).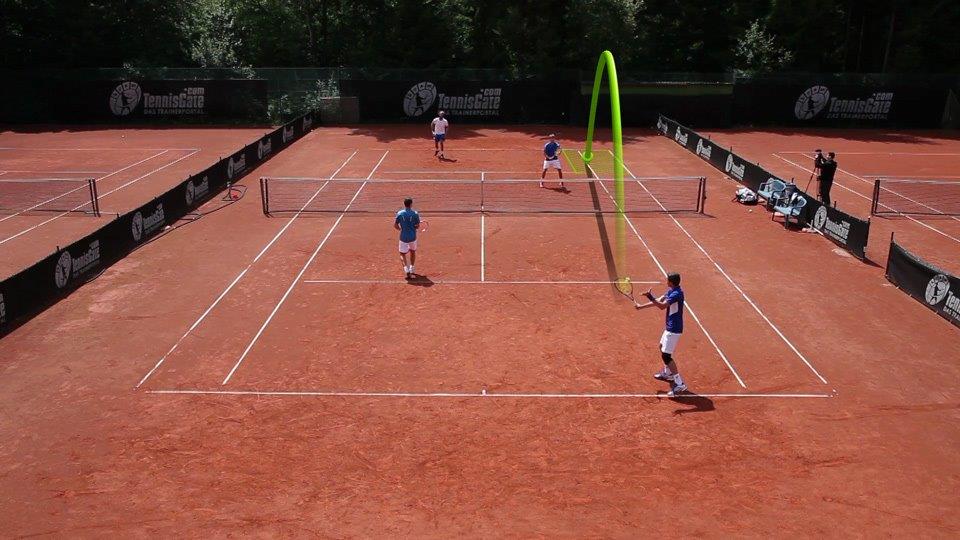 "Switch" does not mean the lobbed over partner simply moves horizontally across the front court - paralleling the net - to the opposite side service box position. It does, however, mean moving over-and-back on the diagonal to the position vacated by the covering back court player. The back court player, faced with an often considerable challenge, must run down the incoming lob (moving from deuce to ad court being the most difficult for a righty) in order to try and return the ball back successfully enough to not present a lurking, salivating opponent at the net with a cup cake opportunity to take advantage of the sitting duck net player previously lobbed over.
The latter happens frequently when the back court player is often hard pressed to manage a response that is not taken advantage of by the opposing net player, who then totally dominates the lobbed over player who "switched" directly across into the line of fire, now a dead duck facing possible dental work. (Don't blame an opponent for attacking your then vulnerable position… blame your partner for setting you up, and yourself for "switching" into a potential dead duck position. Double whammy.)
Qualifier: If you're playing with Caroline Garcia or Jack Sock, or even a high level club player – ones who can easily neutralize these lobs without putting their net partner in jeopardy – you could then just move across, and "switch."
So, if you're not partnering with that kind of player then it's definitely move over-and-back to the partner's previous, now vacated, position. Now, if the back courter's response isn't stellar there is a much greater opportunity to stay in the point with both players playing back in a defensive, stay in the point, alignment. Not still one up and one back!
Additionally, if you're the one being lobbed over, make it a point to call out "you" or "yours" as soon as possible to alert any sometimes late to react partners to immediately cover and make the save. They should lob the save back very high (30'-40' in the air), hopefully deep, but safely back down-the-line to the original lobber who has, typically, not joined their partner at the net to fully capitalize on those often weak responses in club play, and remains at the baseline.
If Caroline or Jack do show up to partner with you, then just cross over. It's okay.
Copyright© by Jak Beardsworth Tennis. All rights reserved, including the right of reproduction in whole or in part in any form.
COMMENTS WELCOME: JB1tennis@comcast.net