JAK'S MONTHLY ESSAY SERIES: Achieving Your Personal Best
Same Grip Volleying Myths
January 2021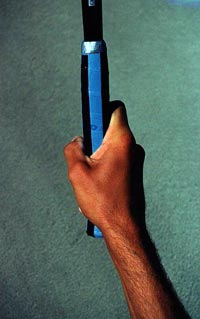 Players are only half right when they announce that they use the same grip for both the forehand and backhand volley – that's, of course, the one-handed backhand volley that two-handed backhand professionals and better club players prefer.
The one grip belief is often misperceived.
Typically, that grip is the "Continental," where the "v" of your thumb and forefinger join, and is placed in close proximity to the left handle bevel - the right edge of it for most - with the racket face positioned on edge (see image). This helps facilitate the racket face being slightly open at impact — only a few degrees depending — to generate slight underspin, particularly on the more challenging shin, knee, and even waist high balls that better opponents challenge you with.
Embed from Getty Images
A cocked wrist in the ready position, with the racket head above that wrist at approximately 45 degrees just below your sight line, leading to an elevated take back / prep is in the mix in order to assist the racket face coming down the backside of the ball to create that underspin.
The missing link in that description — this where the confusion begins — is the all-important arm-racket configuration / position at impact. The contact position of the arm / wrist / racket segments on the forehand side will differ markedly from those on the backhand side despite having basically the same continental grip.
But, that "same grip" is actually re-positioned slightly to accommodate the necessitated changed arm / racket position.
In viewing the images of Roger Federer and John Isner's forehand volleys at or near impact, and then viewing the same on Martina Navratolova and Kim Clijster's backhand volleys, it's immediately obvious that their arm-racket positions are clearly not the same even though they are all utilizing a continental volleying grip.
Note on the forehand there's a segmented upper arm, lower arm, wrist-racket alignment. Yet on the backhand version the upper, lower arm, wrist-racket positions are more connected as one unit.
The result is a leveraged, solid, racket-on-ball position that allows for a well in front points of impact.
Embed from Getty Images
Keep in mind that volleying is all about placement, not power. Trying to over hit your volleys will result in your net game being a liability instead of a strength.
Since the majority of you are mostly playing doubles, being a good net player is a must.
Embed from Getty Images