JAK'S MONTHLY ESSAY SERIES: Achieving Your Personal Best
Shot Shaping
First there's the deep, right up the gut, penetrating low trajectory topspin forehand bomb. Possibly followed by a floaty one-handed, pace changing backhand cross court that can also serve to buy time to defend a strong parry. Mix in a sneaky topspin backhand down the line with disguise. And so it goes, on and on, all the time, shot after shot, no two shots being exactly the same. Constantly nuanced. Subtly done. Varying spins, speeds, trajectories, depth, placement.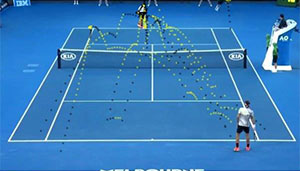 That's Roger Federer's modus operandi in baseline rallies, along with all the very top players for that matter, but especially the Swiss maestro at age 38. A marvel to watch. Flying tennis ball artistry at its all-time best. Master brush strokes if you will.
Shot shaping at its best.
This tactic – if you're having difficulty visualizing it – is well represented in any Hawkeye TV replay that graphically illustrates shot shape trajectory so vividly, something not always so obvious to the club player eye watching the points go back and forth but missing the ball flight details.
What you see – in your mind's eye that is – is what you'll mostly get. You don't see anything in particular, that's what you get as well, nothing in particular. Over there somewhere hoping to not miss.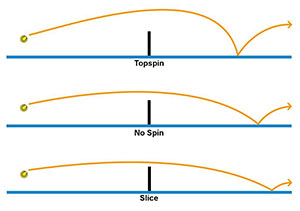 In reference to club play, if you're paired against players of a far lesser level, shot shaping is perhaps not of quite the same value as it would be against a peer or someone more skilled and experienced. After all, since it's a mismatch anyway, you don't have to bring your A-game.
If you are in against equals – as tour players in this era of incredible parity from the very first round on are – or you're facing those with a higher NTRP rating, you're going to need all the variety and guile you can muster. Repeatedly giving opponents the same paced ball, with the same spin or the same lack of spin, will allow them to become grooved to your ball. You'll end up driving home earlier than anticipated.
Back to Roger, and Novak, or Rafa, and the elite women such as Ash Barty, Simona Halep, and the young American Sophia Kenin too, understand that even they are not exclusively operating at their very top, going big "green light" gear shot in and shot out, just banging away ball after ball. They're playing at a level slightly below their personal red line enabling them to deliver disrupting pace, spin and trajectory changes that are not only well within themselves, but also keeping opponents off balance and uncomfortable.
Embrace creating a wide array of shot making versus thinking constantly escalating pace alone, as the point extends, as the best way to succeed.
Example, don't be afraid to do a little less than your norm in a rally ball duel from the baseline, especially in doubles where there's not much court to defend if and when, on occasion, an opponent does comes up with something special in response.
Always trying to play at the absolute very top of your game where there's little margin for error - just because you made that world class forehand pass in the third game – once again feeds a good opponent's rhythm and timing. An unwanted one dimensional approach.
Take a page from the world's best. Play within your skill level first and foremost, and utilize shot shaping at the same time. Keep in mind that some of your club player best stuff is often a spontaneous perfect storm of technique in a fleeting unconscious time frame.
Enjoy those moments, but don't buy into self-defeating, unrealistic expectations.
Copyright© 2020 by Jak Beardsworth Tennis. All rights reserved, including the right of reproduction in whole or in part in any form.
COMMENTS WELCOME: JB1tennis@comcast.net